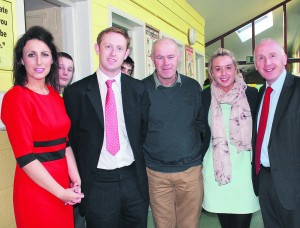 AIB's Youth Ambassador, Colm 'Gooch' Cooper visited Davis College yesterday as part of this year's Build a Bank Competition, which is one of the largest schools competitions in the country. This programme links directly to the Business Studies curriculum and is a great way for students to develop key business and entrepreneurial skills in a fun and interactive way. Students set up and manage their own school bank and compete at the national final for a top prize of €5,000 for their school.
This year, AIB has introduced a Best 'Digital Bank' Award in conjunction with CoderDojo, a global collaboration providing free and open learning to young people, especially in programming technology. This award is for the teams that excel at running their school bank by embracing the use of digital channels and media. The award will be adjudicated by James Whelton, co-founder CoderDojo at the National Final and the local CoderDojo champion at the Regional Finals. Winners at the Regional and National Finals will be presented with the award and each school bank team member will be presented with a prize.
Colm Cooper said: "Students in Davis College have had a long and successful history of competing in the AIB Build a Bank Challenge."
More details on the AIB Build a Bank Challenge are available on www.aib.ie./buildabank with up to date information on the competition on www.facebook.com/AIBBuildaBank .