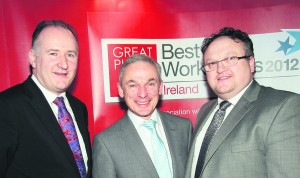 For the second year in a row, Barry Group, one of Ireland's leading wholesale distribution groups, finished in the top 20 in the 'Best Medium-sized Workplaces' category. Jim Barry, Managing Director, Barry Group, expressed his pride and delight on accepting the award: "The Great Places to Work accolade is a key focus for management and staff in our company. To be recognised as one of the best places to work, especially by our employees, is a huge boost for all of us and a fantastic tribute to all the hard work contributed by the entire team". The Great Place to Work audit process involves two tools – the Culture Audit Questionnaire and the Trust Index Survey. The Culture Questionnaire examines how management creates trust in the workplace through various policies, practices and initiatives. The Trust Index Survey is focused on anonymous feedback from employees in terms of how effective these policies have been. The resulting scores from these two evaluations allows the judging panel to compile the 'Best Workplaces' lists. Trust is the defining characteristic of best performing workplaces and is measured by the quality of relationships between work colleagues as they strive to achieve excellence in every aspect of the business. Barry Group management and staff work extremely hard to create a winning team atmosphere throughout the business. The company also proudly holds the 'Excellence Through People Platinum Award'.
Originally founded by James A. Barry in 1955, Barry Group has been in business for over 50 years.  The company trades prominently on a national basis, supplying product to more than 800 customers including 265 affiliated stores in the Republic of Ireland, operating under the Costcutter, Carry Out, BuyLo and Quik Pick brands.
Under the strategic leadership and vision of Managing Director Jim Barry, Barry Group also trades internationally in more than 15 countries. The company employs 230 people at its headquarters in Upper Quartertown, Mallow.