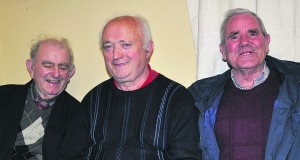 Castlemahon Parish Hall last Friday evening was the ideal setting for the launch of this year's Castlemahon-Feohanagh Parish Annual 2012. It was a historic day in many ways, with all the elevens in the date, and Michael D Higgins being sworn in as Ireland's ninth President.
The launch was performed by Seán Patrick Tracey from Houston, Texas, who is a first cousin of Michael Fleming who launched last year's annual. Both families have their roots in the parish and are great supporters of the magazine, and last year spent their holidays around West Limerick. A good crowd was in attendance as MC Pat Normoyle got the proceedings under way and Ireland took the lead in the soccer playoff in Estonia. Mary O'Connor, Life President of the History Group, welcomed all present and looked forward to the evening ahead. Seán Tracey outlined his connections with the parish as he commenced his address, and fondly recalled a meeting with the late Conor Keane, in 1999, who gave him a very informative history lesson. This was his tenth visit to Ireland and also present with him on the night was his mother, aunt, and Michael Fleming. He followed up by going through the contents of the 110 page annual which is number 31 from the dedicated and committed group. He was full of praise for their efforts, which would put far bigger parishes and towns to shame. He was honoured to be present and to launch the 2011 parish annual. 
Other speakers  included Liam Irwin, Cllr. Jerome Scanlon, Michael Fleming, and Fr Peadar De Búrca, who were all generous in their praise for the annual and the important part it plays in the lives of the community and overseas. A number of presentations followed the launch and the annual was available to buy for €10. The ladies served a lovely tea, and delicious sandwiches, cake, and buns, which were most welcome to all. A mini concert followed from the very talented musicians, singers, dancers, and storytellers, which is always a highlight of the evening. The annual contains 94 articles of varied interest, and 157 photographs, of old and new. It has articles from the usual contributors, and from a number of new writers from around the parish and beyond. It contains photos of Barack and Michelle Obama, and Queen Elizabeth and Prince Phillip who all visited Ireland this year. Mary Flynn, the sole survivor of the Dromcollogher Cinema Fire in 1926, is featured and the life and times of the man who built Knock Airport, Monsignor Horan, are recalled. It is an excellent read, it is highly recommended and would make a lovely gift for a friend at home or abroad.  It is available in the usual outlets to purchase, and it is a very attractive and colourful publication, and well done once again to all involved.