This Sunday, 23rd October, at 2pm, everyone will meet up at Ballingarry Hall to take part in either walking, jogging or running the 11th annual Ballingarry Run Run/Walk, so be sure to come early for registration which will start at 1.15pm. All donations will be accepted on the day for this very worthy cause, sending our sick to Lourdes with the Limerick Diocesan Pilgrimage. Stewards and officials along with Seamus Hogan, doing his usual MC, will get everyone off to a good start.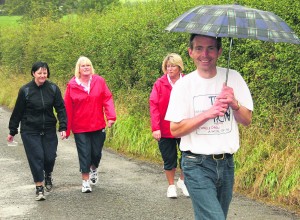 The run will be started by the great Richard Anthony of 'I Love Limerick.ie'. Fr Dan Lane will give his blessing to all participants, and Garda Pat Holland, Civil Defence and Dr Corrigan will be on duty for safety precautions. The routh this year is the same as all previous years, but doing it in reverse, down the town, left at DA's Pub, straight on to Snow's Shop, turning left onto the Bruff Line, left again at Listons Cross and straight home to the hall for a bit of craic. Don't forget to get your face painted by Orla Clancy, while unexpected guests will be walzing around the streets of Ballingarry.
Light refreshments and entertainment will be provided in the hall afterwards by the great musicians John Shanahan, Steve Madigan, Jerry Enright and Tim Lehane, all from Drom-Broadford for everyone to enjoy.
Sponsorship cards are available. More info from Bridget O'Keeffe at (069) 68487 (086) 0577224.