West Limerick Junior B Hurling Final
Knockaderry Claim First Title
Knockaderry……………………………………….2-14
Newcastle West……………………………………..1-8
Gerry Molyneaux Pro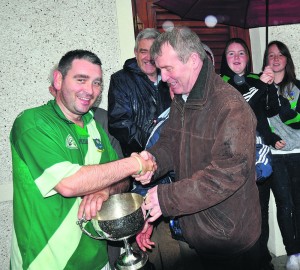 Knockaderry GAA club created history as they won their first ever West Junior B Hurling title in Dromcollogher last Sunday evening, inspired by corner forward Joe O'Connor and midfielder Robert Egan. There were a total of 14 scores in the first half, 7 from placed balls and 7 from play. Knockaderry's first score was a point from Donnacha O'Dea, Joe O'Connor had 2 points, Robert Egan 1 point and John O'Sullivan 3 points. Captain fantastic Ollie Dowling had 2 points from placed balls. Newcastle West scores came from the sticks of Seanie Gleeson (4 from placed balls) and Mike O'Grady (1 from play) leaving the half time score Knockaderry 0-9 Newcastle West 0-5. The rain was falling heavy for the second half. Knockaderry were first to score with points from Ollie Dowling and John O'Sullivan. Shay Lyons had a point for Newcastle West followed by another from the stick of substitute Declan Brouder. Mike O'Grady had a point from a free for the Magpies, Joe O'Connor raised 2 green flags for Knockaderry followed by 4 points from Ollie Dowling (2 from frees and 1 from play) and 1 from Donnacha O'Dea. Newcastle West raised a green flag from full forward Damien Garrihy leaving the full time score Knockaderry 2-14 Newcastle West 1-8. Seamus McNamara, Secretary of the West Board presented the cup to Knockaderry captain Ollie Dowling, to tremendous cheer from the Knockaderry supporters. Ollie thanked Noel Morrissey of Skuller's Bar for his sponsorship of the competition, match referee Billy Phillips for his handling of the game and he wished Newcastle West the best of luck in the county championship. It was a first ever Junior B Hurling Championship to come to the village of Knockaderry and no better GAA man than Ollie to bring the cup home. He dedicated the win to his late father Denis Dowling R.I.P. who passed away earlier this year and was a true GAA man. The West Board would like to thank Noel Morrissey of Skuller's Bar for his sponsorship of the competition and the man of the match award. A huge crowd of Knockaderry supporters made their way to Skuller's Bar to witness the presentation of the man of the match award to Robert Egan.
 Newcastle West: David Hurley, Conor Fanning, Darren McCarthy, James Hennessy, Ronan Kelliher, Thomas Ryan, Tommy Kelliher, Tony Doyle, Mike O'Grady, Seoirse Joyce, Shay Lyons, Jamie Lee, Seanie Gleeson, Damien Garrihy, Daithi Nash.
Knockaderry:Padraig O'Callaghan, James O' Connor, John Power, Jimmy Cantillon, Daven Meehan, Patrick Murphy, Noel O'Connor, Mui-ris O'Connor, Robert Egan, John O'Sullivan, Leon Moloney, Donnacha O' Dea, Joe O'Connor, Oliver Dowling, Mike O'Connor.
Referee –Billy Phillips.