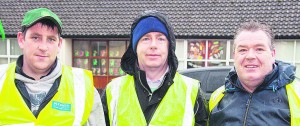 The 12th Annual Ballingarry 10k Fun Run/Walk will take place on Sunday, 23rd September at 1.30pm. Everyone will meet up at the hall at 1pm to register, and stewards and officials will be on hand to help everyone get off to a good start and provide information about the route. Donations will also be accepted on the day. Fr Dan Lane will give his usual blessing to all participants, and Garda Pat Holland, Civil Defence and Dr Corrigan will also be on duty for safety precautions. Seamus Hogan will be MC. Light refreshments and entertainment will be provided by John Shanahan, Steve Madigan, Jerry Enright and Tim Lehane in the hall afterwards for everyone to enjoy. Sponsorship cards are available and your support will be really appreciated,
Shave or Dye will take place in Denny A's Pub on 13th October, please take notice of change of date.
Thanks to all the sponsors who have come forward, especially to Denny A himself who hasn't shaved his beard since Ballingarry won the county final in 1979. W are expecting big money to be sponsored for this, and are also looking for a few more gentlemen to take part, so be brave like Denny and support the Irish Cancer Society.
For more information please contact Bridget O'Keeffe at (069) 68487 (086) 0577224 Rob Curtis (087) 2747644 or Mary Carroll Lynch (087)1333443).