BRIDIE KIELY SINGS ON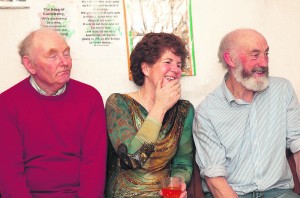 We offer our congratu-lations to Bridie Kiely who celebrated her 89th birthday on Monday last 20th February. She celebrated the occasion with family and friends over the weekend. She attended the Carrigkerry Wren Dance at the Flag Floor in Glensharrold on Saturday night, and participated in the night's entertainment. She sang a lovely duet 'The May Morning Dew' with her lifelong friend and neighbour Mary O'Connor. She also displayed her skills on the bodhrán, and had a very enjoyable night. Bridie remains young at heart and has a positive outlook on life, and age is only a number. It is not the years in your life but the life in your years that count, and Bridie is testament to this statement. Congratulations again to Bridie from her neighbours and friends, and may you never grow old.
I compiled the following tribute to Bridie, last autumn.
" Down at the crossroads, we sang neath the moon,
While the fiddles danced out, their wonderful tune,
There was blarney and fun, as the céili took step,
And thoughts were so happy I'll never forget.'"
Older readers will recall with fondness and nostalgia, the singing voices of Delia Murphy ("If I were a Blackbird'" and "The Spinning Wheel'") Bridie Gallagher ("Goodbye Johnny Dear" and "Cutting the Corn in Creeslough") Maisie Mc Daniel ("Roomful of Roses," and "This song is just for you") and other female singers of the time. Bridie Kiely (Bridie Mangan as locals knew her) was our singing heroine, who we looked up to with admiration, to match those above. She was a most popular singer along with her great friend and neighbour Mary O'Connor, at the house dances, wren parties and other social gatherings when I was growing up. Bridie had a sweet voice that would charm the birds from the tree tops, and coax more milk from the cows, with lovely lullabies, before the arrival of the milking machine. Her voice could be heard early and late, singing many of the old Irish favourites as she went about her work around the house, hill and farm.
It was a different Ireland then around our little corner of Limerick where the people were more plentiful and neighbourly and the Meitheal was in place, and people looked out for each other. The sunshine seemed more permanent and the land was dryer and the scenery better, as forestation was in its infancy. The pace of life was less hectic, allowing people time to converse, and to enjoy nature and the delights of the countryside. The work was more labour intensive on the land but a common bond existed and people had much the same in financial terms. The people ate their dinner in the bog after cooking it on the open fire they had lit with the heather, furze, and small sods from the previous year. They drank their tae in the meadow, from a sweet gallon, got from the local shop when the hard sweets were all sold.  Nash's red lemonade, and Geary's currant top biscuits were in fashion, and the trap car and push bike were the favourite modes of transport.
Bridie Mangan was born in Glensharrold Carrigkerry on 20th February 1923. Other famous people born that year included  Norman Mailer US writer, Marcel Marceau French mime artist, Henry Kissinger US statesmen, Joseph Heller US author, Richard Attenborough British actor, Charlton Heston US actor, Alan Shepard US astronaut and the first American in space, and the Greek soprano Maria Callas.
Notable events of the year included the Irish Free State being admitted to the League of Nations. Jack Dempsey was the World heavyweight boxing champion, the first transatlantic wireless broadcast was made from the UK to the USA, 73,500 animals were slaughtered in the foot and mouth outbreak in the UK, Chanel No 5 perfume was launched on the market, the first Readers Digest was published, Pope Pius X1 called for world peace, William Butler Yeats won the Nobel Prize, and ''Farewell Blues' and 'Who's sorry now' were amongst the biggest hits.                                                                          
Bridie's parents were Tom Mangan and Ellen Aherne, both from Glensharrold, and she had seven brothers, Mike, Paddy, John, Tom, Dinny, Jimmy and Joe, and four sisters, Anne, Mary, Eily and Kathleen. She grew up on a small farm nestling in a valley beside the White River which provided plenty of long eels and small trout to fill the pan and satisfy the stomach. The corncrake, jacksnipe, pigeon, swallow, heron, and cuckoo were welcome visitors as they called out as they flew over the fields and river. The sweet smelling woodbine and honeysuckle crept along the rose trees, and the perfume of the meadowsweet flowers were delightful when in season. Farms were nearly self-sufficient, with fuel from the bog and vegetables from the garden and a pig in the barrel complementing the products got from the farm. The family grew up to the sound of music and song, as they inherited their parent's great love for their favourite pastimes. Music and song, religion and emigration were a big part of the Mangan family who have crossed many oceans, and gained many achievements, from their humble homestead in the glen.
''I think I see the turf fire, it attracts my father's gaze,
And my dear old mother sitting by his side,
His pipe is lit, the smoke ascends, he's thinking of the time,
That took his boys, beyond the tide.''
Bridie attended Carrigkerry National School walking the 2 miles each way with her brothers and sisters. Her teacher Miss Hardiman was an influence in her taking up singing when she was about 10 years old. Her first public perfor-mance as a young girl was at a raffle, in Bill Collins's house in Lower Glensharrold. Bridie sang with the local dramatic society in the forties, as they performed plays at various venues around West Limerick during Lent. With Margaret O'Connor, Glenastar Cross, and Mary O'Connor, her next door neighbour, they would put on a concert during the interval of the play. She recalls those times with very fond memories of the people involved and the places they visited and the trips and the fun on an open lorry and the occasional mishap. The platform dancing at Mc Mahon's Grove, close to her home was great fun during the summer evenings, when neighbours and friends would gather for a number of hours to enjoy themselves, the music was supplied by her brother Joe, Johnny Aherne, John Joe Connors, and the famous Martin Mulvihill from Glin played there on occasions. She remembers McMahon's shop and all the people who attended there, and the musicians, who played for the dances which were held on top of a slab of concrete especially put in place for the occasion, by Johnny McMahon and his friends. One drawback was the midges, who could attack with a vengeance, on a hot evening and raise lumps on the dancers and the onlookers. She admired the singing of Bridie Gallagher, and Maisie Mc Daniel and enjoys Daniel O'Donnell at present. Bridie's favourite songs include Old Mud Cabin, My Forever Friend, and He'll have to go.
' Put your sweet lips, a little closer to the phone,
And let's pretend that we are together all alone,
I'll tell the man to turn the juke box way down low,
And you can tell your friend there, with you he'll have to go.'
Mike Kiely from Limerick city was the love of Bridie's life, and romance blossomed when Mike came to live and work his uncle's farm in Glensharrold.
They were married in St. Joseph's Church, O'Connell Avenue, Limerick, on the 29th August 1951, and went to Dublin for the honeymoon. They worked side by side on the farm and were a very united couple. They were blessed with a family of three, Mary Ann, Michael, and Willie, who have all done well for themselves in life.They witnessed many changes, and had their ups and downs, and Bridie continued to attend social events and continued her singing. She was a great person for visiting her neighbours and friends, who were pleased to see her and to enjoy the chat. I recall visits she made to see me when I was a small boy in hospital which were most welcome at the time. She looked after her late mother for many years, and had a great bond with her neighbour the late Kitty Keating. She brought sunshine into many lives during those years of change in rural Ireland.  Mike and Bridie celebrated their 50th wedding anniversary on Wednesday 29th August with Mass in Saint Joseph's Church followed by a function at The Woodlands House Hotel in Adare. It was a most enjoyable night for us all and Bridie serenaded Mike with a few verses of Charlie Lansborough's My forever friend. They enjoyed 55 years of married life until sadly Mike passed away on Sunday 3rd Septem-ber 2006 after a life well lived. 
'He's my forever friend,
My leave me never friend,
From darkest nights to rainbows end,
He is my forever friend.'
Bridie is going strong at 89 years old and enjoys her singing and keeps in touch with all her friends in person and by phone. Her health remains good, her family call on a daily basis, and she attends local functions, the Social Club Ardagh, the Flag Floor Glensharrold and the Desmond Complex in Newcastle West. She has been recorded over the years on West Limerick 102 Community Radio, and on TV on the Ear to the Ground programme featuring the Carrig-kerry Wren boys in November 2002. Down the years Bridie has visited her relations in America, and she has gone to Lourdes and other holy places on pilgrimage. She is thankful for a long and fulfilled life, but sad when she remembers all the good people, relations, neighbours, and friends, who have departed this life. Her brothers have all passed on, and only Sister Rosaleen in a convent in Birmingham and Bridie survive. I have no doubt with her voice, she could have made it to the top as a singer, if opportunity had knocked. A different time and a different place, and what might have been rest easy on Bridie's shoulders as she looks back on a life well lived and enjoyed to the full. I am reminded of the song from Celine Dion My heart will go on when I think of Bridie down the road in her nice comfortable home with Kiely's hill in the background. The red berry fuschia, geraniums and flowers are eye catching and the place is an oasis of peace and tranquillity.  She is surrounded by her family and friends, and an abundance of precious memories, gathered from her fields of gold. 
''Near, far wherever you are.
I believe that the heart will go on,
Once more you open the door,
And you're here in my heart,
And my heart will go on and on.''