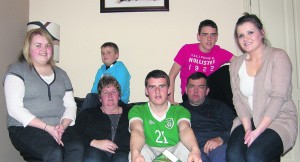 Recently, Kilmallock's Barry Sheedy received his first Irish cap in Dublin at an F.A.I. presentation ceremony.
The Kilmallock native won his first cap for his country at under 18 level last August. This is a remarkable achievement for any young man and for many it is a life-long dream to be capped for their country. Skill, grit and determination led to Barry representing his country at soccer and now he is plying his trade with Limerick F.C., the young Kilmallock man has a very bright future in the sport.
Barry Sheedy took up soccer at the tender age of 7 and has played at all levels including adult with Kilmallock. As a young teenager he was called up to play in the prestigious Kennedy Cup Tournament for two consecutive years, at 12 and 13 years of age where he was spotted and invited along to train on the FAI Emerging Talent Programme. According to Barry the emerging talent programme was very helpful, "as they teach you how to create space and work on where you may be going wrong and help you to improve on these weaker areas". It was the Emerging Talent Centre and FAI scouts who sent Barry forward for trials to compete in the famous Galway Cup. Barry travelled to Dublin for trials and was chosen to join the squad for which he had to travel to Dublin for training sessions. "The competition was of a very high calibre and we played against some top players from all over Europe," Barry recalled. He scored his first goal after coming on as a sub. That year the U15 Emerging Talent team came 4th overall in the competition which is something they can be very proud of.
Sheedy was then called up for U16 Ireland trials. Barry continued then to play with the Munster Schools U17 Team which was highly competitive. He was then selected to play on the FAI Munster U17 squad which saw the four provinces meet to play each other. In January 2011 he was selected to for the U17 international training camp which took place on 3rd and 4th January. In February 2011 Barry played with the U17 Ireland International team in a friendly against Italy. In June 2011 he transferred from Kilmallock Utd to play with Limerick FC. Even though he is an U19 player he is mostly seen playing with the first team. In August 2011 he was selected for the Republic of Ireland Under 18 squad for their international match against Wales on August 3rd. They travelled to Wales and the match was played at Holyhead Hotspurs FC. He was also selected on the final squad of 18 to represent the FAI Emerging Talent Programme for a series of matches in England between August 8th and 11th where they took on Leicester City and Wolves.
In October 2011 Barry had nothing short of a hectic weekend when on Friday evening he played for Limerick FC against Athlone and on Saturday he travelled to Westmeath for the Schoolboys' Interprovincial Tournament. The interprovincials are the first step on the process of selecting the FAI schools international squad for next year's Centenary Shield competition – a tournament involving the Republic of Ireland, Northern Ireland, England, Scotland and Wales.