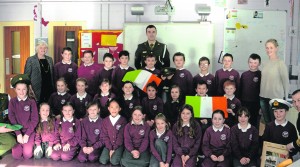 A little piece of history was experienced by the pupils of Liscarroll Ns on Tuesday February 2nd 2016. Two members of Oglaigh na hEireann, Lieutenant James McKeon and Gunner Paul Moynihan, accompanied by Lieutenant Bernard Heffernan of the Irish Naval Defence Forces, came to the school to present us with our national flag and a copy of the 1916 Proclamation. Fr. Robin Morrissey PP, chairman of the board of management, and Mrs Anne Maria Bourke, Principal, welcomed them at the school gate.
The children of 1st and 2nd classes provided a guard of honour through the yard. Philip Egan of the board of management acted as MC for the occasion and on their arrival at the hall he formally welcomed them on behalf of the packed audience. Philip recited 'The Mother' by Padraig Pearce and was accompanied on the harp by Christine O'Riordan, the senior infants' teacher. Lt. Heffernan then read the opening paragraph of the proclamation.
The next three paragraphs were read by three 6th class pupils, Catriona Healy, Seamie O'Callaghan and Joanne O'Hanlon.
When Lt. Heffernan finished reading the proclamation the flag was presented to Holly McCarthy, the eldest pupil, and Shane O'Connor, the youngest, by Lt. McKeown. The proclamation was presented to Fionn Heffernan by Lt. Heffernan.
Represenatives from clubs and organisations in the Parish, members of the board of management and Parents Association, parents, staff and pupils listened attentively to the protocol associated with the care and raising of the flag. We must show respect for our national flag and there are some simple rules to be followed: the flag should never touch the ground, when it's flying with other flags it must be the highest, and it must be taken down at night.
The ceremony finished with everybody standing to attention and singing Amhran na bhFiann. Mr Moylan and Miss O'Riordan accompanied them on the keyboard and harp respectively. The ceremony was videoed by Paddy Buckley assisted by Paddy McAuliffe and Paddy Tobin.
The pupils returned to class while our esteemed visitors mingled with the guests. Eamonn Collins took photographs and Mrs Finn and members of the Parents Association provided tea and biscuits. All present enjoyed the informative discussion with the officers and remarked on how memorable they made the occasion by their kindness, patience and dignity. The officers visited each of the classrooms where they answered questions from the pupils.
This concluded a memorable day in the life of all in Liscarroll Ns.
Thanks to all who helped in any way to make this day such a success.