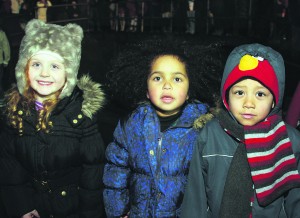 The fireworks display in Mallow to welcome 2013 proved a big hit with the public, with upwards of 3,500 people watching the event from vantage points in the town.
The fireworks were launched at 10.30pm from the Blackwater River bank with the countdown given by Mayor Noel O'Connor in the car park of the adjacent Arches bar, and for the next ten minutes or so the sky lit up as a variety of fireworks soared high over the river before exploding into a kaleid-oscope of colours.
Speaking afterwards, Mayor O'Connor said he was very happy to see such a positive response to the initiative. "It was a great community event with young and old gathering together, and I believe it was as good a fireworks display as you could get anywhere," he said. "It didn't cost a penny to the public who were able to come out and be with friends. The only thing now is that we'll have to do it again next year!"
As well as the fireworks display, music was supplied from a stage in the Arches car park, and the entire event was sponsored by Mallow Town Council, Blackwater Valley Tourism and the Arches.