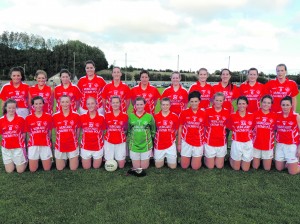 MUNGRET ST PAUL'S……………….5-7
ST AILBE'S…………………………………4-6  
The fine setting of Ballybrown G.A.A. grounds in the lovely September sunshine was the venue for the long awaited Limerick Ladies Football County Senior Championship Final, between holders St. Ailbe's and Mungret/St. Paul's.
The slight breeze favoured St. Ailbe's in the first half and from the throw in by referee Eddie Barrett they certainly made use of it. Within the first five minutes St Ailbe's scored two goals, leaving Mungret a bit shocked but there was a long way to go. In the seventh minute Mungret's Yvette Moynihan went up the field with steely determination and struck the ball to the net for a powerful goal. Shortly afterwards Moynihan took off again and scored a point.  From the kick out St. Ailbe's made good strides up the pitch and again found the net. At this point Mungret keeper Janet O'Carroll came off injured and was replaced by the experienced Catherine Murphy. The game was played at a fast pace with great tackles going in from both sides and nobody holding back. Before the break Mungret had points from Moynihan, Kate Mulqueen, Aisling Ni hAnnaidh and Triona Bannon, and Ailbe's scored two points. Just before the end of the first half, in a desperate measure to keep the ball out, the Mungret defence gave away a penalty, which was scored by Sile Moynihan, to leave the half time score: St. Ailbe's 4-2 Mungret/St Paul's 2-5.
It was St Ailbe's again who got the first scores of the second half with points in the 35th and 40th minutes, Mungret were now down five points and badly needed scores.  Ni hAnnaidh gained possession and pointed in the 41st minute, and shortly after, seasoned player Breda Lynch was in the right place at the right time and had the ball in the back of the net. In the 45th minute Mulqueen got her hands on the ball and she was only going one way and from just outside the square and from a tight angle, she sent home a fourth goal for Mungret. This was the first time Mungret had led in the match and from this point Mungret got stronger and stronger: Olivia and Martina Giltenane in defence were playing with cool heads, Lisa Garvey and Moynihan in midfield were now winning all the duals.  Ailbe's made another few bursts up the pitch and showed threat every time they went forward, but half backs Jenni O'Malley and Susan Fitzgerald dealt with every ball that came their way. In the 50th minute keeper Murphy stuck out her knee to make a great save, Ailbe's got a point soon after.  In attack Fiona Mangan and Julia Walsh were winning all the battles, and in the 55th minute when Walsh won possession and hand passed to Ni Ainnaidh, she only had eyes for goal and duly delivered.  Before the final whistle St Ailbe's got a point and Ni Ainnaidh got the insurance point to leave the final score Mungret/St. Paul's 5-7 St. Ailbe's 4-6. Mungret had bridged a nineteen year wait since their last title.   
After the match chairman of the County Board Jerry Noonan presented Mungret captain Olivia Giltenane with the Tom Madigan Cup. 
Mungret/St Paul's: Janet O'Carroll, Karen Gibbs, Aisling Dee, Olivia Giltenane, Jenni O'Malley, Martina Giltenane, Susan Fitzgerald, Lisa Garvey, Yvette Moynihan, Fiona Mangan, Aisling Ni hAnnaidh, Breda Lynch, Kate Mulqueen, Triona Bannon, Julia Walsh, Catherine Murphy, Mair-ead Clancy, Marita O'Brien, Niamh Foley, Aisling Keogh, Deirdre Devers, Caoimhe O'Neill, Orlaith O'Neill, Yvonne Norris and Amy Dineen.
Management: Matt Fennell, Keith Devers, Tom Dee, Mary Murphy and Mick Timmons.
St Ailbe's:
Aisling Enright, Jessie Ryan, Emma McGuire, Ellen O'Riordan, Emma Donnelly, Vicki McMahon, Hazel Fogarty, Caroline Hickey, Joanne McGuire, Stephanie Carroll, Paula Donnelly Laura Lyons, Eimear Ryan (captain) Sile Moynihan, Aideen McNamara, Sinead McNamara, Pauline McCarthy, Sarah Ryan, Aoife Shanley, Kyra Hogan, Jasmine Gleeson, Kate Ryan, Kerri O'Gorman, Niamh Shanley, Niamh Burke, Maura Fitzgerald and Alice Parks.