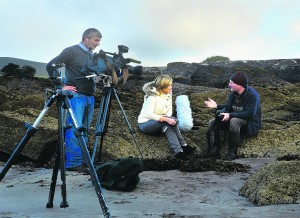 Local businessman and avid photographer John Hooton is to feature on RTE Nationwide later this month.
Presenter Anne Cassin came across a copy of John's recently published book 'Gathering Light on the Dingle Coast' and contacted him with a view to doing a feature on him. The programme will follow John at his business, Mallow Fitted Furniture Ltd, and will continue to Dingle where John runs photographic weekends for photographers of all levels.
Anne Cassin from Nationwide spent a day with John last July at his workshop in Ballyviniter, following the process of design, cutting and assembling of kitchen and bedroom furniture.
John established Mallow Fitted Furniture Ltd in 1982 and over the last 32 years has built up a strong business. Over the years he has trained and employed several apprentices and is well known for the high quality of his work.
Many people will know John as a member of Mallow Camera Club, and in recent years his hobby has taken a new turn. While continuing with his main business of furniture making, John now also runs several weekend photographic workshops from Ballyferriter, teaching the art of landscape and seascape photography. Early in September Anne Cassin and an RTE camera crew joined John on one of these weekends and together with a number of photographers from Ireland, the U.K. and Canada they explored the beauty of the Dingle Peninsula. These courses are open to photographers of any level and have proved very successful.
One of the more recent highlights in John's photographic career is the publishing of his first book "Gathering Light on the Dingle Coast" which is available from local bookshops. The Nation-wide programme will be on RTE 1 later this month.