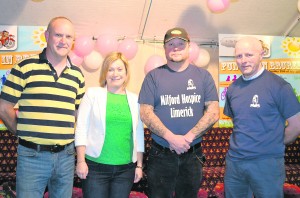 A Day for Gina is a very special event being run for the first time next Sunday 28th July. Gina O'Connor was only 42 when she lost her courageous battle with cancer earlier this year after being diagnosed only months previously. Her heartbroken family, touched by and in apprec-iation of the excellent care Gina received want to give something back to the Mid-West Regional Hospital Cancer Care Unit and Milford Hospice. Gina's husband Maurice, son Mossie and daughter Amy have rounded up a bunch of friends to help them make "A Day for Gina" happen.
Starting and finishing in Bruree there will be a 5k walk suitable for all the family, an 8k run, a 45k cycle and a 100k cycle for the more experienced cyclist. All routes will be well marked and mar-shalled. Most cyclists will be familiar with Maurice and his fellow motorcycle marshals from other cycling events around the county where they escort all participants around the course in safety. This fact alone should encourage cyclists to support this very worthwhile event.
The 45 and 100k cycle will start together at 10am. The walk and run will start at 12 noon. The routes will be explained after the safety briefing before the off. There will be tea, coffee and soft drinks for all participants before the start and food and refreshments when you return. There will also be a commemorative medal for all who complete the event.
We appeal to families, walkers, runners and cyclists to come and support this really worth-while event to help the O'Connor family raise much needed funds for two really important centres of care, comfort and support in our community. We also appeal to local businesses and potential sponsors for any donations you can make to what we're sure will be a wonderful day.
Anyone looking for information please contact Maurice O'Connor (087) 2291627, Mike Sexton (087) 9188375, Declan McCarthy (087) 7847223 or John Carey (087) 2701771.