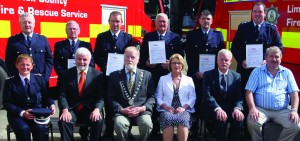 Limerick County Fire and Rescue Service last week became the first fire authority in Ireland to be presented with OHSAS 18001:2007 certification, the only auditable international standard for health and safety.
Jan O'Sullivan TD, Minister of State, Department of Environment, Community and Local Government, made the presentation at a ceremony in Foynes Fire Station which also featured the official handover of two new water tankers to the local fire service fleet.
The OHSAS 18001 Occupational Health and Safety Management Systems – Requirements standard was first published by the National Standards Authority of Ireland in 2007 and is currently held by approximately 16,000 certified organisations in more than 80 countries. The standard sets out a preventative and proactive approach to identifying workplace hazards and assessing and controlling risk.
Speaking at the presentation, Minister O'Sullivan said: "The safety and management awards we are celebrating are another step in improving the overall standard of our safety performance and provide both service providers and the public with independent assurance of a high quality service.  I would like to congratulate all involved in Limerick County Council on this achievement."
Along with receiving OHSAS 18001:2007 certification, Limerick County and Fire Rescue Service is also certified to ISO9001:2008, a separate standard of excellence in service delivery that has been maintained since 2000.
The certificate presentation was followed by the official delivery of two new water carriers costing a total of €370,000, which was funded by the Department of Environment, Community and Local Government. The vehicles will be used primarily for the provision of fire-fighting water supply. 
The addition of the vehicles to the fleet increases the number of water tankers to five. County Limerick Fire and Rescue Service operates a total fleet of 19 operational fire appliances, which include fire pumps, water carriers, an emergency tender and an aerial ladder platform.