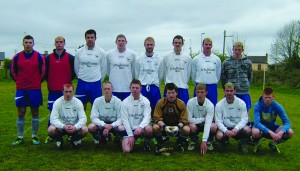 Desmond Cup Quarter-final
Kildimo United …………………………………………………(0) 1
(K. Hogan 72)
Abbeyfeale United ………………………………………………. (0) 3
(B. Sheehy 46, D. Fitzgerald 77, Joe Kelliher 86)
Abbeyfeale United are through to the Desmond Cup semi-finals for the second season in succession after coming away from Kildimo United with a hard-earned 3-1 victory on Sunday morning.
All the goals came in the second-half, which was only a minute old when Barry Sheehy headed home Paul Doherty's corner. Kildimo equalised in the 72nd minute with an excellent Kevin Hogan header from a super Conor Fitzgerald cross, Denis Fitzgerald regained the lead for Abbeyfeale five minutes later and Joe Kelliher scored the insurance goal in the 86th minute.
Abbeyfeale were really up for this contest and completely dominated the early stages, forcing a succession of corners, starting in the opening minute when a cross from excellent left-back Robert Browne was diverted behind for a corner by Kieran McMahon just as Doherty was ready to pounce. The deliveries from the quadrants by Doherty from the left and Browne from the right were spot-on but they came to naught because of the aerial prowess of the Kildimo markers, such as Kevin Gallagher, Conor Fitzgerald and Kevin Hogan. The closest that Abbeyfeale came to scoring from a corner in the first-half was in the 7th minute when Sheehy's overhead kick from Browne's delivery was deflected for another corner.
Two minutes later, Sheehy was prevented from scoring a great individual goal by goalkeeper James Chawke. Managing to keep the ball under control in the air with a couple of adroit touches, Sheehy manoeuvred himself into a position where he just had Chawke to beat. He tried to lift the ball over the diving keeper, who just managed to collect the ball with his fully outstretched hand.
With Joe Kelliher and Timmy Gleeson dove-tailing perfectly in the centre of midfield, Abbey-feale remained on top and were playing good football but found it difficult to penetrate Kildimo's hard-working back four of full-backs Mike Barry and Kieran McMahon and centre-halves Gallagher and Mark Battles. Kildimo's best bet was to score on the counter-attack and they came close in the 40th minute when Stephen McKeogh cut inside before firing just wide of the left-hand post.
Joe Kelliher's passing prowess was very much in evidence in the 43rd minute when he cut open the Kildimo defence with an inside diagonal pass to Doherty, who curled over the angle of the bar and post from the edge of the box.
At half-time, Abbeyfeale were happy with their first-half's work. All that was missing was the goal that their play deserved. They didn't have long to wait. A minute after the restart, Doherty swung over a corner from the left and it was met by a glancing header from Sheehy, which found the back of the net.
As was to be expected, Kildimo responded in determined manner and exerted some pressure of their own. It was now their turn to force a few corners and the hero for Abbey-feale in these pressure situations was Denis Fitzgerald, whose deter-mination to win headers ensured that he did just that – repeatedly.
Abbeyfeale seemed to have weathered the pressure but then Kildimo equalised out of the blue in the 72nd minute with a goal that would deserve an honourable mention in any Crossing and Finishing manual. The Abbeyfeale defence, which was so reliable all day, was somewhat out of alignment when Kildimo went raiding along the left flank. They seemed to have got into decent recovery positions but they were unable to do anything about the sheer perfection of Conor Fitzgerald's cross and Hogan's unstoppable header into the top right-hand corner.
In the six previous matches this season that a team came back to 1-1 against Abbeyfeale, that's how the score stayed. However, the Fealesiders weren't going to settle for that on this occasion. They regained the lead within five minutes. A cross from the left by substitute Tommy Smith was contested by Sheehy and Chawke, with the result that the ball broke loose. In like a flash was Fitzgerald, who stretched every inch of his six-foot-plus frame to prod the ball home from four yards.
With the back four of Chris Smith, Browne, Thomas Cahill and John Kelliher in commanding form, Abbeyfeale held out without any major scares but they were still glad to see the insurance goal in the 86th minute, scored by Joe Kelliher, who con-trolled the ball on his chest and then fired left-footed between Chawke and his near post.
Abbeyfeale United: Billy Quirke, Chris Smith, Robert Browne, John Kelliher, Thomas Cahill, Denis Fitzgerald, Joe Kelliher, Timmy Gleeson, Pakie O'Connor, Barry Sheehy, Paul Doherty. Subs: Tommy Smith for O'Connor (65 mins), Shane O'Connor for Sheehy (78 mins), Mike Kelliher for Doherty (86 mins), Darren Keane.
Kildimo United: James Chawke, Mike Barry, Kieran McMahon, Kevin Gallagher, Mark Battles, Stephen McKeogh, Simon Guerin, Sean Fitzgerald, Conor Fitzgerald, Alan Fitzgerald, Kevin Hogan. Subs: Mike Dillon for Barry, inj (62 mins), Tom O'Shea for McKeogh (78 mins), Barry Walsh for A. Fitzgerald (85 mins).
Referee: Paudie Manning.