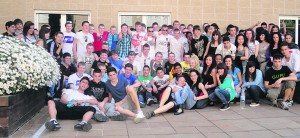 Transition Year students at the Patrician Academy Mallow are hoping to build on the strength of last year's highly successful E-Twinning programme with schools right across Europe. eTwinning is the Community for Schools in Europe Initiative whereby teachers from all participating countries can use the internet to find each other, meet virtually and exchange ideas.This programme allows participating schools to team up in groups, learn together in 'Learning Events' and engage in online-based projects.
Last year marked the inaugural year for the students from TY in the Academy as they set out to take part in this exciting and innovative project. Several links were made with various schools on the continent, which culminated in a very memorable visit to a partnering school in Barcelona. Students had been involved with other schools from France, Spain and Turkey in a project entitled 'Music Across Europe', whereby all participants shared their love of music through various blogs, polls, online performances and competitions.
After months of working together online, the Patrician Academy students were fortunate enough to travel over to Spain to meet with one of the schools from Barcelona. That day students from the Academy met face to face with their 'virtual' partnering school and even took part in a friendly international soccer match!
This year's class are currently beginning the process of engaging with new schools again, with a view to expanding their links with European schools on topics ranging from sports, music and IT, as well as starting a long-term partnership with students from France. This will also encourage learning and partnership through both English and French languages for the students of the Patrician Academy.
School Principal Catherine Fitzpatrick has welcomed this initiative within the school; "the e-twinning programme has proved a very successful and desirable development in our school's academic and cultural development. We are delighted to be engaging with similar schools in the EU at a time when greater emphasis is being placed on creating a 'smart economy,' as well as forging closer links with students abroad, which can only be of great benefit to our school in the future."
The year ahead looks to be very interesting for the Academy eTwinners as they have already been reaching out across new boundaries online in the second year of this exciting programme. At a time when the Euro currency and wider 'European Project' seem to be in crisis, perhaps politicians and bureaucrats alike might want to take a leaf from the Academy boys' book and their European project!