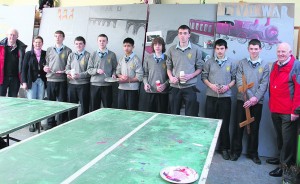 Students at the Patrician Academy are putting the finishing touches to a grand mural on the theme of the Irish Civil War and War of Independence, and when completed it will be exhibited in the library and then outdoors in Bridge Street. The students earlier placed a mural with a Christmas theme at the same locations.
This is part of a Patrician Academy project involving cross-curricular activities including art, drama and music. The theme of the wars demonstrates Mallow's participation in events such as 'The Attack on the Barracks' and 'The Bombing of the Ten-Arch Bridge'. These themes were studied by the students in the form of a visit to Collins' Barracks in Dublin, studies of the local Field Club Journals and various books from Mallow Library. Films like 'Michael Collins' and 'The Wind that Shakes the Barley' were viewed. The drama students attended a poetry workshop given by Kathy Darcy from Tigh Fili, Cork, based on these subjects.
The mural will first be put on display in Mallow Library after Easter. The formal opening will take place on Thursday 19th April between 5pm and 7pm. The drama students will recite poems relevant to the respective themes and the music students will play the Rakes of Mallow and other relevant musical pieces. After two weeks the paintings will be placed around the town.
Our thanks go to the Tidy Towns, Mallow Town Council, La Scala Restaur-ant, Tigh Fili and the library who have supported us in terms of sponsorship and sourcing materials. In charge of the project are Mrs. Glynn, Mrs. Dawson and Ms. Holey.