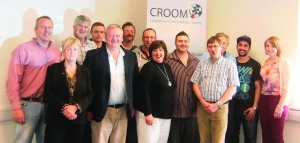 Croom Community Enterprise Centre will hold a networking coffee morning on Tuesday 9th July at 11am. The subject of access to finance and funding for businesses will be discussed. This is an area that many businesses have difficulty in getting to grips with including the many bodies and funders and types of funding available. We hope that this event will help businesses navigate this area with assistance. Various funding agencies will be available to take questions at the event. Guest speaker is Robert Grealis of The Discovery Partnership. Robert was CEO of Knock airport, advises and mentors businesses in relation to strategy and finance, Enterprise Ireland mentor and many other financial roles.
Croom Community Enterprise Centre recently had the first participants on CREATE enterprise programme successfully complete the programme. This is the first in a series of enterprise education initiatives in the enterprise centre.
The coffee morning will be held on a regular basis to encourage business networking in the area. If you are interested to attend, please contact:
Belinda Murphy, Business Development Manager of Croom Community Enterprise Centre, belinda@croomenterprisepark.com or 061-602000.