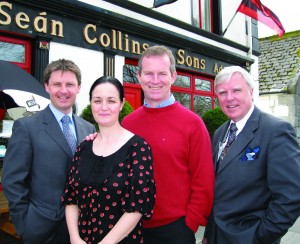 A landmark Adare business is to feature in the R.T.E. television series 'At Your Service' to be screened on Sunday evening.
Seán and Bridie Collins who with a staff of three run Seán Collins and Sons, The Pink Potato and the Village Inn in picturesque Adare and are the third generation of the family to do so. Last year they enlisted the expertise of the Brennan brothers and the television series in an attempt to bring new life to their business.
"Having watched the last series, we contacted RTE to be considered for inclusion in the current run and after being initially turned down, we were accepted," Seán explained.
Francis and John Brennan are brothers and pro-prietors of the famous 5-star Park Hotel Kenmare, Co. Kerry. They bring with them many years of top-level experience but with the recession raging the challenges get tougher every year. According to John Brennan "Even in today's economic climate the opportunity to generate business exists.'
The television crew and the Brennan brothers spent a total of eight days in Adare last year filming and advising the Collins. The Brennans stayed overnight on one occasion and while Francis conducted the main property inspection and devised an overall strategy, John concentrated on financial and marketing plans, looking for more cost-effective ways of running the operation, investigating new revenue streams and money-making opportunities.
"The business required an investment of around €16,000 and this was completed by September" Seán recalled this week, "the Brennans advised us to concentrate on bar food and a hire a chef so we employed local chef Rachel O'Connor" he said. Seán also visited the Brennan's Hotel in Kenmare and underwent a training session there on the preparation and presentation of food.
The Collins' who source their meat and as many products as possible locally are pleased with the results with Seán reporting what he described as a nice increase in turnover.
While in Adare, the film crew availed of the opportunity to film some of the many attractions in the village and surrounding area. 'At Your Service' featuring the Collins' will be screened on R.T.E. 1 next Sunday evening at 8.30 p.m.