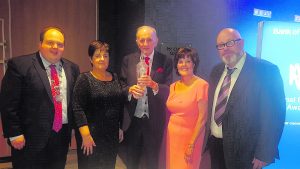 Adare Community Trust (ACT) representing the Community, Voluntary, Social. Business and Sporting organisations in Adare are the Munster Regional and National Winners of the Bank of Ireland National Enterprise Awards 2019 for the small town category
The awards were presented at the Lyrath Estate Hotel, Kilkenny in the presence of the Minister for Business Enterprise and Innovation Heather Humphries TD. There were 107 submissions and in excess of 500 invited guests at the presentations. ACT were represented by Dan Neville, Meriel Clarke, Anita Higgins and Anthony Murphy.
Limerick City and County Council, the nominators of Adare was represented by the Deputy Mayor, Cllr. Adam Teskey and Eamon Ryan, Local Enterprise Manager.
A special word of thanks to Meriel and Anita for the hours of work in planning and organising of the winning entry. Thanks to Elaine Sparling at Manor Fields and Sammy Shine at Samco for the reception on our visits with the judges. Thanks to our presenters Rev Cannon Liz Beasley, Maeve Martin Kelly, Kevin Kelly and Cllr. Bridie Collins.
The exhibitors in the Village Community Hall played a key role in the success of Adare.