Mallow Adult Literacy Centre is celebrating its 21st birthday, having been founded in 1990 by Helen Blake and Treasa O'Rourke, and over the years it has provided a very important service to people with literacy problems. Recent media attention has focused on the apparent low level of literacy in Ireland.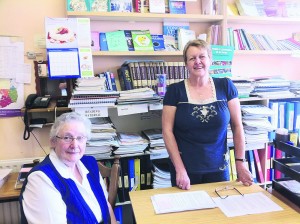 Literacy Awareness Week is running from Monday to Thursday, September 19th-23rd, and the theme this year is The Power of Literacy. According to the latest international survey, one in four or 25% of Irish adults have literacy difficulties. Having a literacy difficulty means you are unable to understand some basic information. For example: follow instructions on when and how much medication is to be taken or given, complete a driver theory exam, or vote; people with literacy skills take all these for granted.
There are many reasons why people have difficulties with reading and writing. Some may have left school with these skills, but through lack of practice have lost the confidence to use them. Some may have left school early, to work, while others may have poor vision, hearing or problems with speech and leave school with little or no skills at reading or writing. A number of people with literacy difficulties can read a little; others may not even have the alphabet.
Currently in Ireland over 50,000 adults are attending literacy classes and 4,000 volunteer tutors provide one-to-one tuition.
Adult learning is all about the needs of the learner and going at a pace that suits them. It is never too late to return to learning and the benefits are well worth it.
Mallow Adult Learning Centre was founded in 1990 when Helen Blake and Treasa O'Rourke saw a need for the service and decided to do something about it. They got the use of a room in the Parish Centre, a phone and a typewriter, and set to work getting trained as tutors and then training tutors and advertising, but back then no one wanted to know or admit to having a problem, so it took a while for them to get the scheme going. Later on they found that the word 'literacy' in the name was uncomfortable for people seeking help, so they changed it to Learning Centre. It was set up to help people who had difficulties with reading, writing and spelling. In the 19 years since they started, more than 1,000 people have been helped.
Since NALA (National Adult Literacy Association) started the Read Write Now programme on television, literacy has received more publicity, and people are more aware of the problem and can see that they are not alone. Still, it is a big step for someone to come forward and admit that they need help.
The reasons people can have literacy problems are endless. Sight, speech or hearing defect; illness in childhood; bullying at school by peer/teachers; these are some of them. There are people with morte than one of these reasons, and there is no explanation in some cases.
The time span with Mallow Adult Learning Centre varies from three weeks to three years or more. No two people are at the same level; some do not know the alphabet, others could have reached second level, more left after sixth class.
The centre works on a one-to-one basis, at the learner's own pace and their individual needs, for as long as they want to stay or till they get to the standard they came for. There is no pressure, no set programme; tuition is based on the learner's ability. Some learn computer skills and some go on to do FETAC Foundation modules. All say they are glad they finally got the courage to ask for help.
Mallow Adult Learning Centre is a voluntary organisation. They get no regular funding from anyone. Their funds come from sponsorship, donations and fundraising. Local business people have been very good over the years. Without the FÁS secretaries they have had since they started they could not have kept the office open for tutors to get access to books and prepared materials to work with.
There is a panel of over 40 tutors in the scheme, all working on a voluntary basis. The hours for tuition range from 10am to 9pm, Monday to Friday to suit learners. Tutor training takes place every October and they always have a good response. Often people leave their names during the year so they are contacted when the start date is advertised.
Mallow Adult Learning Centre office is situated on the top floor of the Parish Centre, Bank Place; they are very grateful to the parish for the use of this facility, as it ensures privacy for their learners.
This service is free and confidential. They can be contacted by phone at 022-42642, by email at mallowadultlearningcentre@eircom.net, or drop into the office between 10am and 1pm any day Monday to Friday. They will be happy to make contact with you.