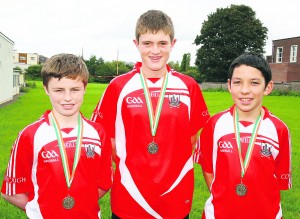 Mallow had three players on the Cork U14/15 team last Saturday in the All Ireland Final against the old enemy Kilkenny, and Eoghan Sheehan, Darragh Moynihan and Gearóid O'Connell went one better after winning silver medals in Féile in June.
The final was played in Cashel in front of a big crowd. The team event consists of 2 games to 15 in a match, and 3 matches, leaving 90 aces to be played for, and whoever has the highest amount of aces takes the gold, and no better way to win it than against Kilkenny and better still at their own game, the big alley 60×30.
A lot of hard work was done with this team as they had to travel to Cullen for the whole summer to train for this Championship with parents and trainers, and it really was a team effort.
Both Cork and Kilkenny had the same idea, putting their strongest pair in first. Eoghan Sheehan from Mallow and Shane Flynn from Boherbue went in and needed a big result, and there was a lot of pressure on these young men. Eoghan has improved so much this summer and his performance on the day was outstanding. Eoghan and Shane dominated the first game, winning 14/7.
In the second game the Cork boys kept up the tempo with Eoghan playing some brilliant shots that totally outfoxed both Kilkenny players and, with Shane's power, Kilkenny had no answer to Cork who took the second game 15/8, giving a commanding lead of 30/15 going into the second match. James Kenneally from Kilworth and Kevin O'Connell from Ballydesmond won their match, which was very close 15/14, 15/13, leaving Cork leading 60/43.
Óisín Hickey and Aidan O'Brien finished off Kilkenny, winning 15/6, leaving Cork to take the gold 75/49. Darragh Moynihan and Gearóid O'Connell went in knowing that it was over. Playing well, they went down 14/11, but had a big smile on their faces. Three gold medals for Mallow, another great achievement for Mallow Handball.
On a sad note, Mallow Handball Club would like to send deepest sympathy to the Fleming family. Gary, who played handball for Mallow, passed away last weekend. May he rest in peace.