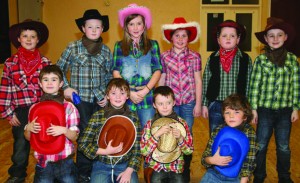 One of the most enduring musical classics 'Annie Get Your Gun' is the offering this year from the Banogue Parish Musical group.
The group which totals up to 50 has been rehearsing since last September for what is the group's 14th production. Their first was 'Cinderella', and in the intervening years they have put on most of the great musicals, among them 'Oliver,' Oklahoma,' 'Calamity Jane,' 'Chicago' and 'The Sound of Music'.
'Annie Get Your Gun' is a light hearted show featuring some very familiar music and songs including 'There's No Business Like Show-business,' 'Doin' What Comes Naturally' and 'Anything you can do, I can do better' among others.
The show is produced and directed by Mike Larkin with musical director Paddy Dwane. Patricia Noonan plays the leading role of Annie Oakley with Michael O'Gorman playing Frank Butler. Other members of the cast include Liam Dore playing Chief Sitting Bull, Jack Costello as Tommy Keeler while Sandy Corrigan plays Dolly Tate, John Murphy as Charlie Davenport and Isobel Shanahan as Winnie Tate.
The production runs for five nights Saturday and Sunday February 11th and 12th and Friday, Saturday and Sunday February 17th, 18th and 19th with curtain up each evening at 8.00 p.m. "We have enjoyed great support over the years from Banogue and the surrounding parishes. They travel good distances as they get good entertainment and hopefully we can assure them a good night again this year to get away from all the doom and gloom," remarked producer Mike Larkin.