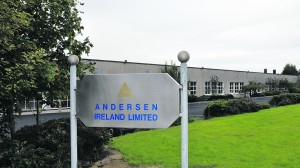 By Matt O'Callaghan
There are anxious timers for the 171 strong employees of Andersen Ireland, Rathkeale as they wait until early next week when a liquidator will commence the work of winding down the company.
The news of the impending appointment of a liquidator was conveyed to the workforce last Friday week in a statement which cited the market for costume jewellery in Europe having been impacted due to economic circumstances and increasing competition. "While the business was insolvent in 2012, it suffered a significant reduction in the number of sales agents available to sell its products. The envisaged improvement in sales has not materialized to the extent required to keep the production facility viable, leading to significant losses this year, which make the steps taken necessary" the statement added.
Concluding it imparted the stark news on the com-pany's future plans "As a consequence, PL Holdings has taken the decision to put Andersen Ireland into voluntary liquidation and to concentrate manufacturing in its remaining facility in Vienna where central functions such as design, prototyping and process planning are located".
The news last Friday week was short, sharp and stark according to Dave Meehan who has been an employee of Andersen Ireland for the last 28 years "it was probably the most difficult and cruellest news that we ever got" he said as he recounted how the dreadful news was broken to the employees. "We went into the meeting expecting that things were not great as we were going through a difficult period. We were expecting something was going to happen but nothing as cold and as clinical as what materialised on that Friday morning. The manager came in, read a short statement and answered questions. When he read out the statement that the company was going into voluntary liquidation and was going to close and the jobs were going to be consolidated in Vienna, it was like somebody put a gun to our heads and shot us. To us that was it" said Dave who has been with Andersen all his working life. "I finished my Leaving on Tuesday and started there the following Monday, I know nothing else, this is my being, everything revolved around working with Andersen Ireland and to think that is going to be no more is hard to take in".
At the moment Dave is pessimistic about the future "there seems to be no future, I am 46 years, where am I am going to get a job. As it was we were struggling with a mortgage and everything, where is the money coming in now. It is extremely bleak. When unemployment comes to your own door, it is only then you realise the start reality of it. It is almost like a death in the family, the emotions, the fear, the hollowness, it is a fear of the unknown, how I am going to pay this, how am I going to pay that? we have worked hard all our lives".
Dave insists it was a wonderful company to work for "we had our ups and downs but there were more ups. They were great employers but they had wonderful employees who gave everything that was asked and more, there never was a dispute, everything was sorted in house. We were a big family, we grew up together, we shared everything together. We know each other inside out and now it is all going to be taken away".
Currently there are 169 employees at Andersen but there were times when at its peak, the staffing level reached almost 300. "The future looked amazing then" Dave recalled, "we were looking at having a second plant in Ennis at one stage about fifteen or twenty years ago. It is over the last six or seven years that things started to go slowly downhill until we came to this shuddering halt"
Andersen brothers established the Rathkeale plant in 1976 and sold it on in 2010 and sold on again to PL Holdings in 2012. "They have now cut us loose, they do not see the human suffering, if they are not making money, we are of no benefit to them. They have not seen the human misery that we have seen it the last week and that is nothing until next week. People are frustrated and angry at the way that they have been treated. We have done everything we can from short time, taken pay cuts, pay freezes and everybody has worked hard. Despite the bad news this week alone, everybody came in and did what they are supposed to do. They are still fulfilling the orders, the quality of the work force is superb".
Dave Meehan is not optimistic once the liquidator will be appointed next Monday "we have to be realistic, the jobs are gone but we will do everything in our power, we are begging anyone that can help us to save those jobs. It looks bleak but we cannot lie down and take it, we will try and do everything to save the jobs if not all of them, save some at least. We have spoken to politicians , they are doing their utmost, we have spoken to the I.D.A. and to S.I.P.T.U, our own union who are doing amazing work in the background doing everything they can. We will work together and leave no stone unturned and we will not close the door on anything. We will keep fighting the fight" he vowed.
Jason O'Mahony and his wife Deirdre have both been employed in Andersen Ireland for 19 years. They joined the company in 1994, and on getting married set up home in Newcastle West. "We have a largish mortgage, a car loan and since last Friday everything has been going around in both our heads" Jason explained. "How are we going to pay the mortgage next month, are we going to get new jobs, will be both be applying for the same jobs, have we enough savings, will the banks come looking for the house, it is just very hard, it is very stressful trying to figure where to go from here" Jason who is a well-known local and intercounty G.A.A. referee outlined.
The O'Mahonys are typical of many employees at Andersen Ireland; a couple both employed there and in a lot of cases for their entire working lives and knowing no other career path than at the Rathkeale plant. "The summer I left school I started in Andersen in November of that year, Deirdre started in August and we have been there since, our whole working life has been there" Jason who is a native of Kildimo recalled.
The well-known referee is quick to point out that he enjoyed life and his job at Andersen "it has been a good working life, I made knew friends, met my wife, that is all about to come to an end now. I have loads of happy memories except for last Friday. What to do next, who to talk to, do we have to go and sort our mortgage out with banks, are they going to be able to help us, where do we send our CVs. Then Deirdre and I are not the only couples in the plant in that position"
The Kildimo native whose wife Deirdre is from Adare admitted that they did not see the bombshell announcement coming "for the last three or four years, it has been slowly going down, we always thought that we would get out of it, we never said that we were going to close, we always clung on to the idea that we will keep going. So when the statement came out last Friday week, it hammered everybody into the ground, it really is hard to take. We were talking to colleagues today and discussing getting people in to talk about suicide and other things that are being thrown out on the table now and which have to be dealt with"
For Jason and Deirdre O'Mahony, it is like turning back the clock as they come to terms with the situation and beginning plotting their future "it is like a leaving of school shortly and starting all over again and retraining into something else, something else I do not know. What jobs are out there, where we start, I am 40 years old and probably young enough to be retrained but who is going to take on 170 people at the minute, where are they going to go" he asked.