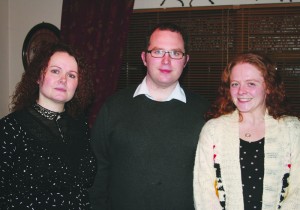 A short film 'Vanner', written and produced by Ardpatrick native Meave McGrath will screen at the prestigious Chicago Irish Film Festival in early March. The cast and crew got a sneak preview when it was screened at the Greenwood Inn, Ardpatrick last Saturday night.
'Vanner' follows the return of Francie Flanagan to his halting site in Limerick, Ireland after a tragic event at a fair. This is the story of the fallout from this unexpected start to his married life. It is a film that looks at loss, love and the traveller tradition.
Filmed entirely in County Limerick, mainly in the picturesque Ballyorgan, Glenosheen and Ardpatrick area, Meave was very happy to return to her roots for the shooting.
Meave McGrath is a native of Ardpatrick which she left as a three year old but following her marriage to former Premiership footballer Jon O'Connor, the couple settled in Glenosheen where son Aidan attends the local national school.
Meave studied Theatre Studies in Trinity College and Television Production and Development at GMIT and has worked as an actress and producer with RTE, BBC, ITV, TG4 and a number of independent companies. She has appeared in such well known productions as Fair City, Ballykissangel and Ros na Run among others.
'Vanner' is directed by Galway native Colm Higgins, a former founding member of Tree Light Pictures.
Speaking about the film, Maeve said, "I was keen to film in the Ballyhoura countryside to showcase the natural beauty of the region. After approaching Ballyhoura RDP and with their support and support from Limerick County Council and a Fundit campaign, we started filming on the three most glorious days of sunshine we had all summer."
Chicago Irish Film Festival 2013 will take place in Chicago from March 1st-6th 2013.