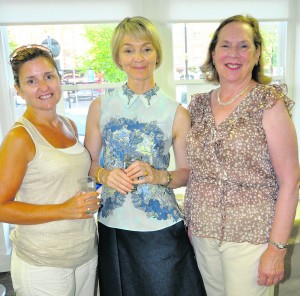 This year's Newcastle West Show kicked off last Friday with the opening of the 'Art Meets Agriculture' Exhibition at the Red Door Gallery.
Whilst 26 paintings by local artists, all with a rural theme, adorn the walls in the Gallery, vintage farm implements compliments of O'Donovan Auctioneers and private owners are also on display.
The collection of paintings was created specifically for the Newcastle West Show which included a number of new family focused attractions this year.
Speaking at the opening, Newcastle West Arts chair and exhibition coordinator Vicki Nash said, "This was a new and exciting venture for both committees and drew together disparate interests which we hope the public will enjoy."
The 'Art Meets Agriculture' Exhibition is open to the public from Thursday 25th July until Saturday 27th July from 1pm – 5pm. Everyone is welcome.