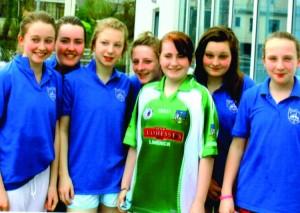 North Munster Swimming Championships
The North Munster Championships Gala was held at Askeaton Pool and Leisure Complex last Saturday and Sunday. Visiting clubs from Tralee, Limerick, Nenagh, Lahinch and Tipperary town as well as the club's own swimmers, 188 athletes in total, participated in the first two- day event the club has hosted.
Due to a demand for distance swims, 400m and 200m events, the club committee and coaches decided to extend the list of events this year to include 400m freestyle and 200m I.M. swims. These events were run off on Saturday evening and were well attended by the participating clubs.
All swimmers were back at the complex for a warm-up at 9am on Sunday with the gala starting at 10am. Before the competition started a minute's silence was observed for the passing of Mrs. Peg Nunan who was a dedicated club member for many years.
With over 870 splashes in total all the officials and helpers were kept busy all day. While all swimmers like to improve their personal best times and even win a medal, be it gold, silver or bronze, at this gala all the clubs have their eyes on the McCarthy Shield which is presented to the best overall club at the meet. This year there was a fiercely fought battle between Limerick and Askeaton with Limerick winning the shield by a very small margin.
Our 40 club swimmers did themselves and their coaches proud with all swimmers getting PBs and a total of 66 medals, 22 gold, 19 silver and 25 bronze being claimed by the club. Well done all the swimmers.
This gala saw Mia Brennan making her first trip to the medal podium. Mia is the granddaughter of Anthony Sheehy, one of the club's oldest and proudest master swimmers. If Mia continues in her grandfathers footsteps she will have many more trips to the presentation podium.
A big thank you to all the clubs that participated in this gala, we hope they all had an enjoyable day and that all the swimmers achieved their goals. Our thanks also to the parents and helpers from our own club, without whose help this gala could not take place; to Centra Askeaton, who gave us a donation towards our expenses, and to the management and staff of Askeaton Pool and Leisure Complex who as always were most helpful on the day