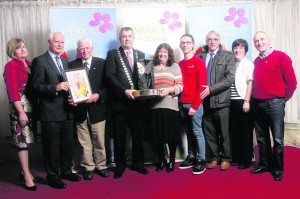 The West Limerick village of Athea has scooped the top honour in the 2013 Limerick In Bloom contest.
Forty-three other commu-nity groups throughout County Limerick were also honoured for their participation in the annual competition, now in its sixth year, at an awards ceremony held at the Woodlands House Hotel in Adare.
Limerick County Council, in conjunction with sponsor JP McManus Foundation, once again hosted this year's competition which serves as a motivational mechanism for small local-based groups throughout the county to enhance the visual impact of their settlements by means of flower, tree and shrub planting. Along with being named overall winner, Athea Tidy Towns Committee picked up first prize in its category, while Castleconnell Tidy Towns, Ardpatrick Tidy Towns and Cappamore Estates Committee were named winners of their respective categories. 
Limerick In Bloom adjudication took place during July and considered such factors as colour, size, variety, location and appropriateness of the various planting schemes along with the management of litter.
Competition categories are based on population size, with a first, second and third prize in each category of €1000, €500 and €300 respectively.
Category 1 for community groups in towns and villages with a population of under 300 was won by Ardpatrick Tidy Towns followed by Kilteely Tidy Towns and Knockainey Tidy Towns in second and third place respectively. Category 2 representing towns and villages with a population of 301-700 was won by Athea Tidy Towns Committee followed by Broadford Development Association (2nd), Pallasgreen Residents' Association and Oola Tidy Towns (joint 3rd).
Castleconnell Tidy Towns was named overall winner of Category 3, for towns and villages with a population in excess of 700, with Askeaton Heritage and Tidy Towns Association and Adare Tidy Towns finishing in second and third place respectively.
Each participant received a framed certificate of participation and the prize winners received a certificate, an engraved plaque and a voucher. The overall winner received a voucher, a framed certificate and the Limerick in Bloom Trophy.