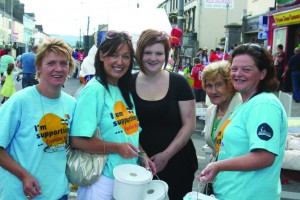 It is just six weeks away and August would not be the same without the Charleville Electric 80s giant fundraiser.
The inaugural event was held in 2009 to raise funds for Heart Children Ireland and Our Lady's Hospital for Sick Children Crumlin. Little Danny Harrold successfully underwent vital heart surgery in Crumlin that year and in appreciation of the care and attention that he received at the hospital, members of his family and friends organised the first Electric 80's fundraiser. The event has since blossomed and is now an integral part of the local social calendar for August and to date has raised in excess of €40,000 that has been dived between the two causes.
In the three years so far, there has always been something to surprise and capture the imagination of young and old alike as the Electric 80s night in the town did in 2009, the novelty bed push through Charleville town in 2010 and last year the innovative Thorny Rose Contest won by Jacinta Mullins. There is sure to be something special in 2012, so watch out, you would not know what might be coming this year, all will be revealed in the coming weeks.
Log on to the event website www.electriceighties.com