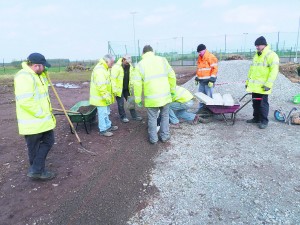 Avondhu Blackwater Partnership Ltd works in the community to help tackle unemployment on a daily basis by organising training courses, providing a career advice and CV service and by adminis-tering the Tús Community Employment Scheme. At present the company has placed 100 workers annually in community and voluntary sector roles and has just been awarded an additional scheme of 20 participants. Tús parti-cipants work in a variety of different settings from charity shops, to youth centres, sports complexes to Tidy Towns, tourist offices to community councils. The work titles are consequently diverse ranging from admin-istrators, to gardeners, actors giving drama work-shops, to musicians and receptionists to caretakers. As Avondhu Blackwater completes its second year administering Tús and enters its third year man-aging the scheme, what has been the outstanding success of Tús is the pride and dedication that the Tús workers have in their work. According to a company spokesperson, "What astounds us over and over is the dedication and reliability of most of the workers. One has to bear in mind that workers cannot opt to come on Tús but are referred to Avon-dhu Blackwater Partnership by the Department of Social Protection. Indivi-duals are than placed in accordance with their skills and abilities in the community and voluntary sector". The spokesperson continued, "Essentially they are thrown in at the deep end and have to sink or swim very fast. However, from Avondhu Blackwater Partnership's experience, the workers not only swim, they flourish in their working role, highlighting the pool of talent in our community. Avondhu Blackwater Partnership then reco-mmends that all Tús workers avail of the company's career and CV service and available training courses during their year on Tús to ensure that the experience is a fruitful one and that the participant's employability is improved going forward".
The company spokesperson concluded, "I would like to take the opportunity to thank everyone that has worked for Avondhu Blackwater Partnership since 2011 and to extend the same gratitude to all the community and voluntary groups that have created employment roles for the workers. Pride in our community is alive and well and pride in a good day's work is demonstrated by the Tús workers on a daily basis. In a time of many negative economic and political soundbites, these positive attributes of Tús and the Tús workers is no small feat and should not go unnoticed".
For anyone interested in receiving more information about the Tús initiative or the company's CV and career service, please call Avondhu Blackwater Partnership on 025-33411.
Rural transport
in your area!
Avondhu Blackwater Partnership is now operating 40 door-to-door bus services in the rural hinterlands of Fermoy, Mallow and Blarney. All the routes are public bus services and can be used by anyone, young and not so young! To book a seat or to enquire about a route diversion to include your house, contact Damien Tobin, Avondhu Black-water Rural Transport on 025-33411.