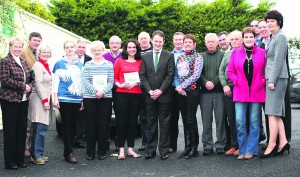 Due to popular demand the deadline for the Avondhu Blackwater Partnership Rainwater Harvesting course has been extended. The closing date for applications is now 12 noon on Tuesday, 1st November. Rainwater Harvesting Installation courses are ideally suited to the person who wishes to up-skill and develop the expertise to avail of the opportunities presented by this increased demand, for those individuals who have experience in the construction sector and those with traditional trades who now find themselves unemployed, underemployed or facing redundancy or job insecurity.
The Rainwater Harvesting Installation courses will be held over three days on the following dates: Monday 7th to Wednesday 9th November in Fermoy Education Centre and Thursday 10th to Saturday 12th November in Mallow GAA Complex. Please contact John McCarthy at Avondhu Blackwater Partnership on 025 33411 for an application form. All application forms should be returned no later than 12 noon on Tuesday, 1st November.
Are you finding transport to and from college difficult?
Do you live in the Mallow, Fermoy or Blarney area? Are you a college student and finding transport difficult? Avondhu Blackwater Partnership is researching the need for bus services to third level colleges for people living in the Mallow, Fermoy and Blarney hinterlands. The partnership has received several calls in recent weeks from people who are having difficulty getting to college from Monday to Friday and also from people who travel to college on Sunday nights and return on Friday evenings.
If you are having similar difficulties, contact Damien Tobin, Avondhu Blackwater, on 025 – 33411 as the partnership may be in a position to develop new bus services subject to demand.
Driver scheme for oncology appointments
Minister for Research and Innovation at the Department of Education, Seán Sherlock, was in Fermoy this week to launch 'Liam's Lifts', a new volunteer driver scheme to assist people getting to oncology treatment in Cork.The scheme is being developed by Triona O'Flynn, a Fermoy woman, in memory of her father Liam who sadly passed away in 2010 following a battle with cancer.
Triona has already recruited 13 volunteer drivers who have completed Passenger Assistant Training and the scheme will start on Monday November 14th. "We are so excited about finally launching the scheme after several months of planning. The service users will be asked to contribute a nominal fee only to help with travel and administration costs. We were delighted that Minister Seán Sherlock was available to launch the scheme."
Speaking at the launch, Minister Sherlock praised the volunteer drivers for giving their time to such an innovative new scheme. "Liam's Lifts will help provide an affordable, personal and discreet door to door car service for people who need transport support for essential cancer treatment. People are often anxious about their treatment so it will be a huge comfort to them that Liam's Lifts will be in a position to ease their transport difficulties." For more information on Liam's Lifts, contact Triona O'Flynn on 086 – 7257218