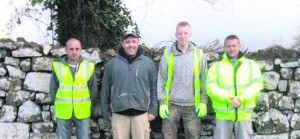 Avondhu Blackwater Partnership workers help revitalise castle grounds
Mallow Castle came alive at the weekend as part of the Racing Home For Easter celebrations. Local residents, visitors to the town, and young and old alike were able to enjoy the grounds of Mallow Castle in all its former glory, and soak up the festival atmosphere and celebrations which included a street show by the artist-led company Macnas. The grounds of the castle were brought to life by the hard work of Cork County Council, the castle's resident groundsman Ned Murphy, and in particular the dedication and enthusiasm of Avondhu Blackwater Partnership's Roaming Team of skilled maintenance workers and gardeners. The team includes John O'Keeffe, Eamon Kavanagh, Derek Corrigan, Andrzej Maziarz and Adrian Browne. The group was formed by Avondhu Blackwater Partnership at the start of the year to undertake village and town renewal and enhancement in the Avondhu Blackwater area. Each of the team has their own talents and skills which ensures a high quality of service, and since their formation the team have been in constant demand. Their routine is to travel to local towns and villages and undertake necessary maintenance and gardening tasks that will contribute to the enhancement of our local towns and villages. Their dedication to the Mallow Castle Project in preparation for the Easter weekend was duly recognised by Cllr Dan Joe Fitzgerald, Mayor of Mallow who praised the work of the group and Avondhu Blackwater Partnership. According to the Mayor, "progression of the Mallow Castle project is vital to the town and the support from Avondhu Blackwater Partnership and in particular from the company's Roaming Group was much appreciated in preparing Mallow Castle for the Easter festivities".
For further information on Avondhu Backwater's Roaming team please contact Vincent O'Flynn or Ann-Marie Tierney on 086-4112818 or 025-33411.