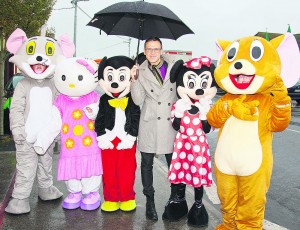 Thanks so much to everyone for giving up their time each year to collect money for well known and deserving charities. The Ballngarry Fun Run/Walk committee got together as a group 12 years ago to try to help people to fight various diseases and to help those who suffer day to day. Each one of us has sat by someone's lonely bedside trying to share that awful pain. We ourselves sometimes take life for granted so we need to ask anyone who is fit and healthy to start training for the Ballingarry 10K Fun Run/Walk in aid of the Irish Cancer Society which takes place on Sunday, September 23rd.  Or else you can leave your hair grow long for Shave or Dye on Saturday, 15th September at Denny A's Pub.
We are looking for sponsors, men, women and teenagers, to join in for a bit of craic. Don't miss our funny characters who will be on the go all weekend, singing and dancing round the streets of West Limerick. All funds raised will go to the freefone helpline and night nursing care for anyone who is terminally ill and would like to be cared for by their loved ones in their own home.
You can contact any of these numbers for more information: Robert Curtis 087 2747644, Mary Carroll-Lynch 087 1333443 or Bridget O'Keeffe 086 057724.