By Matt O'Callaghan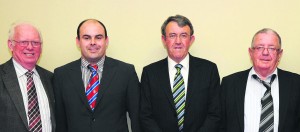 The men who brought county hurling glory to Castletown/Ballyagran a quarter of century ago were reunited and honoured last Saturday evening at a gala Dinner Dance and reunion at Charleville Park Hotel. Members of the squad of 1986 and their mentors came together from all over the country with Brendan Cagney making the long trip from New York to be present for the occasion.
The event was organised by the Jubilee Organising Committee 2011 spearheaded by Brendan Danaher, Chairman and Denis Feehan, secretary.
In the course of his welcoming address Brendan Danaher nostalgically recalled the greatest year in the club's history, the only year that the club claimed the Limerick junior Hurling Championship. He poignantly recalled those associated with the great success and who were no longer with us. Michael O'Gorman whom he described as an outstanding captain in 1985 and one of the great players of 1986, Willie Cagney, the club P.R.O. in 1986, Derry Kelleher, the club sponsor and Dr. Ted Hurley, medical advisor in 1986.
Team goalkeeper in 1986, John Cagney spoke on behalf of the players.
Among the attendance was former Limerick All-Ireland medallist in 1973, Phil Bennis who guided the team to success in 1986, Liam Lenihan, Chairman and Michael O'Riordan, Secretary, Limerick County Board and Pat Murnane former Chairman of the South Board.
Presentations were made on the evening by the club chairman Sean Gilbert to the members of the 1986 team and by Pat Murnane to the 1986 officers. Ned O'Donnell, the team captain in 1986 but who missed the final through injury, made presentations to the 1986 selectors while Brendan Danaher made a presentation to team trainer Phil Bennis.
The last presentation of the evening was received with thunderous applause when Brendan Danaher announced that the Hall of Fame award was going to long time club official and stalwart Mike Griffin to whom he made a suitable presentation.
The stories and the nostalgia continued into the early hours with Stephen Connery providing the music for the evening.