By Paddy Ryan
Ballyhea…………………………………………………………………………………………………0-15
Shanballymore…………………………………………………………………………………………1-10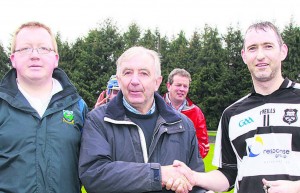 The overall balance and teamwork proved decisive as Ballyhea took the McAuliffe Hurleys JBHC title in Doneraile on Sunday. The game was played in heavy conditions due to the constant rain of the weekend. Ballyhea led all through and took some very good points from long range. Shanballymore also did well but they trailed all through.
Three late pointed frees by substitute Ryan Hanley proved vital as Ballyhea lifted the title they last held in 2007. Shanbally had some great long range points by Vincent Burke. The winners were reduced to 14 players in the 23rd minute at a stage when they led 0-7 to 0-3. At half time Ballyhea enjoyed a 3 point advantage 0-8 to 0-5.
John O'Flaherty pointed a Ballyhea free on the resumption and Aidan Crowley, with a long range effort, edged the victors double scores clear 0-10 to 0-5.
Shanballymore made a great recovery in the last 15 minutes. They were denied a couple of goal scoring chances with Ollie Morrissey and Derek Mackessy outstanding. Jimmy Burke kicked a point under pressure and Vincent Burke followed with a free, 0-10 to 0-7. In the 50th minute Vincent Burke worked well for Niall Barry to point leaving just two points between the sides. Just when it looked as if Shanballymore would be able to close out the game it was Ballyhea who came back well with Aidan Crowley and John O'Flaherty (free) points which restored the four point lead. Shanbally set up a good movement involving Richard McCarthy, Vincent Burke, Eamon Fitzgerald and Darren Roche but a timely interception by Seán Curtin broke up the attack, the ball broke kindly to David Barrett who sent over. Further pressure saw Shanbally worked a free by Vincent Burke to Jimmy Burke who passed to Niall Barry who sent over. Ryan Hanley eased Ballyhea to success with three pointed frees with Vincent Burke placing Jimmy Burke for the only goal of the game in the 58th minute. Shanbally tried very hard for a second goal but they were unable to breach a solid Ballyhea back line who held out for a close win. After the game Willie McAuliffe, sponsor, presented the cup to the winning captain Diarmuid O'Riordan in the presence of Board Treasurer Denis Hickey.
Scorers for Ballyhea: John O'Flaherty 0 -4 (0-3f) Aidan Crowley 0-4, Ryan Hanley 0-3f, Diarmuid O'Riordan 0-1, Darren Ronan 0-1, James Morrissey 0-1, Stephen O'Sullivan 0-1.
Shanballymore : Vincent Burke 0 -5 (0-4f) Jimmy Burke 1-1, Niall Barry 0-2, David Barrett 0-1, Eamon Fitzgerald 0-1.
Ballyhea: Ollie Morrissey, Tommy McNamara, Derek Mackessy, Kieran O'Riordan, Shane Crowley, Seán Curtin, Stephen Coleman, James Morrissey, Aidan Crow-ley, Enda McNamara, Diarmuid O'Riordan (Capt) John O'Flaherty, Stephen O'Sullivan, Michael O'Mahony, Darren Ronan. Subs: Ryan Hanley for John O'Flaherty, Kieran O'Donoghue for Michael O'Mahony.
Shanballymore: Stephen Donegan, Charlie McCarthy, Richard Burke (Capt) Brendan Hayes, Alan Barry, Darren Roche, Richard McCarthy, Eoin McHugh, Vincent Burke, Kenneth Barry, Eamon Fitzgerald, David Barrett, Jonathan Linehan, Jimmy Burke, Niall Barry, Subs: Mick O'Donovan for Jonathan Linehan, Seán Cronin for Eamon Fitzgerald,
Referee: Simon Stokes (Tullylease)