By Paddy Ryan
Ballyhea…………………………………………………………………………………………4-12
Kildorrery………………………………………………………………………………………2–4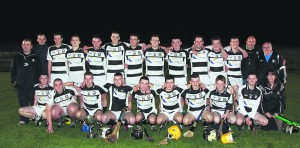 Ballyhea claimed the U21 BHC title in Mallow on Tuesday evening when they defeated Kildorrery in the Final.
Whilst there was no denying Ballyhea the manner of their clear victory the dismissal of a Kildorrery player late in the opening half for a second bookable offence hampered their chances for the rest of the game and instead it was Ballyhea who used the numerical advantage to great effect to run out convincing winners.
The opening half was a thrilling contest with the lead changing hands on a number of occasions. Kildorrery hit the front from the throw-in when William Fouhy found the net but it was quickly cancelled out from the resultant puck-out when John Morrissey set up Enda McNamara who netted from a very tight angle. The scene was now set for the rest of the half and they were again tied by the 10th minute at 1-3 to 2-0, the second Kildorrery goal coming from James McEniry. Over the next few sequences of play, Kildorrery with Finbarr Stapleton, Michael Lillis, William Fouhy and Fintan Daly shaded matters and moved into a two point lead by the 18th minute. However, the better balanced Ballyhea outfit came thundering back into the tie and were denied a certain goal when Kildorrery's James O'Sullivan made a vital clearance off the line but the winners made amends within seconds when John Morrissey's delivery saw Dean Copps finish to the net from close range. Exchanges were tense and hard fought all through this period and as the half time whistle approached Ryan Hanley with three pointed frees opened up 2-6 to 2-3 cushion before Kildorrery were dealt a blow when they were reduced to 14 players.
For the second half Ballyhea were quick to gain the upper hand with Stephen Roche, James Hennessy, Stephen Coleman, Kieran Morrissey and Kieran O'Donoghue winning most of the breaks in the half back line and midfield sectors while up front their forwards worked very well as a unit. In the 33rd minute the winners breached the Kildorrery backline for a third goal when a good pass from John Morrissey set up Kieran Morrissey to score a great goal, 3-7 to 2-3. Finbarr Stapleton replied with a pointed '65 for Kildorrery in what proved to be their final score of the half. Ballyhea grew in stature from here and at the mid way stage Dean Copps had his second goal of the game while well taken points before the final whistle by Ryan Hanley (2) Dean Copps, Kieran Morrissey and Kevin Copps helped them emerge comfortable victors.
After the game Tony Buckley, on behalf of sponsors Country Clean, presented the cup to the winning captain Stephen Coleman in the presence of Board Chairman Christy Morrissey. Ballyhea now meet Ballygarvan in the county quarter final this Saturday in Blarney 4pm
Scorers for Ballyhea: Ryan Hanley 0-8 (0-7f), Dean Copps 2-1, Kieran Morrissey 1-1, Enda McNamara 1-0, John Morrissey 0-1, Kevin Copps 0-1. Kildorrery: William Fouhy 1-0, James McEniry 1-0, Finbarr Stapleton 0-2 (0-1 '65'), Fintan Daly 0-1, David Kelly 0-1,
Ballyhea: Jack Casey, Fergus O'Regan, Shane Crowley, Diarmuid O'Shaughnessy, Stephen Roche, James Hennessy, Stephen Coleman, Kieran Morrissey, Kieran O'Donoghue, Kevin Copps, Enda McNamara, Ryan Hanley, David Noonan, John Morrissey, Dean Copps. Subs: William O'Keeffe, for David Noonan, Michael O'Callaghan for Ryan Hanley.
Kildorrery: Seán Walsh, Cormac O'Baoil, Michael Lillis, Seán O'Sullivan, Fintan Daly, Luke O'Baoil, James O'Sullivan, Finbarr Stapleton, Niall Kelly, Robert Coughlan, David Kelly, William Fouhy, James Magnier, James McEniry, Niall Fitzgibbon, Subs: Anthony Palmer for Robert Coughlan, John Frewen for James Magnier, Ronan Fox for Niall Fitzgibbon.
Referee: John O'Leary (Mallow)