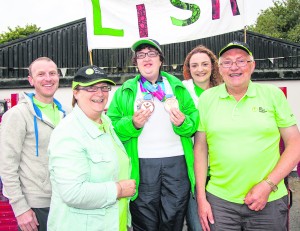 Ballyhea turned out in force Tuesday evening to welcome home the parish's latest sporting heroine. Between 300 and 400 people turned out to welcome home Lisa O'Brien, who was a member of the Ireland Special Olympics team that performed so spectacularly at the Summer Games in Los Angeles.
Lisa won two bronze medals in the 25m and 50m sprint disciplines and locals got together to ensure that she received a hero's welcome home on her return home.
Lisa arrived in Dublin Airport on Tuesday morning, and in the early afternoon her parents, Liam who is a native of Ballyhahill, and Anne, a native of Tullylease arrived back on a flight bringing the par-ents and team connections.
The party arrived in Ballyhea around 7.30pm, to find a float waiting at the Pike Cross to carry the Olympian to the local G.A.A. club. She was joined on the float by her parents, sister Aine and Aine's boyfriend Brian Giltenane from Milford. Lisa has one brother, William, who is domiciled in Australia but who joined her in Los Angeles for the Games.
On arrival at the G.A.A. club she was welcomed and introduced by Noel O'Riordan, chairman of Ballyhea G.A.A., and was presented with a Ballyhea G.A.A. top bearing her initials. Other speakers included local parish priest Fr. Pat Lenihan and Lisa's father Liam, before the Olympian thanked everybody for their help and support before and during the Games.
Lisa is the first female Olympian from the parish and the first to represent Ireland at the Games since Kieran Murphy did so at swimming a number of years ago, (see pages 10 and 11.)