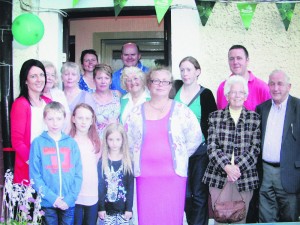 What a great Gathering in Ballyorgan this last weekend! People came from near and
far on Friday to enjoy the cheese and wine, the photos and memorabilia in the school, meeting friends and relations they hadn't seen for many years. Despite the rain on Saturday, the family fun day allowed the children to have a ball, enjoying themselves in the fun races and the bouncy obstacle course. The artistic face painting was also a great success. Parents enjoyed looking and buying from the many stalls and all enjoyed the tasty pizza and hot dogs. The dog show was an important feature for dog owners who went away with rosettes and a tasty treat for every dog. The evening was rounded off with a very successful dance at the Village Inn where people danced and enjoyed the craic with friends old and new.
Sunday morning saw a packed church for the Homecoming Mass and gifts to represent the life of the village were carried to the altar including a sheaf of hay, a lid from a milk churn and a hurley. A memorial candle and a globe were also presented to represent those away from home and those who were deceased. The choir sang their hearts out with hymns old and new and they were a delight to listen too. The afternoon historical walk and talk to the abbey graveyard and Kilflynn church saw the little church absolutely packed to listen to the talk. After all the efforts of the day, people were glad to return to the village to enjoy the pig on the spit and the salads. The weekend was rounded off by music in the Village Inn and the long-awaited raffle was drawn with eleven winners enjoying great prizes.
As the members of the organising committee reflected on the weekend, they were very happy at the great atmosphere and buzz that had been apparent all weekend and they felt very grateful to all the people who helped in so many ways from decorating the village, to baking buns or decorating the church. Many local businesses gave spot prizes for which the committee were really grateful, and in addition to the main sponsors, Foxes Furniture, O'Brien Transport and the Village Inn there were also very welcome donations of cheese from the Effin Cheese Company and delicious wine given by Robert Butterworth who until recently worked at Castle Oliver and who will be greatly missed in the community.