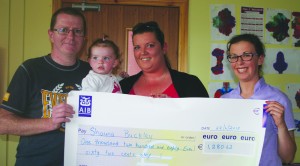 It was celebrations all round last Thursday evening at the opening of an extension to Banogue Community Crèche, Tots to Teens.
A new room, the Busy Bees Room was blessed by Fr. Eamonn O'Brien, C.C. Croom and officially opened by Gráinne Sweeney, a member of staff who is leaving after five years.
Manager Amanda Jordan and her staff were joined by the members of the crèche committee and parents and children for the celebration.
Banogue Community Crèche was officially opened by former President, Mary McAleese and caters for up to 100 children in a safe, friendly and happy environment.
Present at the celebrations was staff member Elaine Burke who left for Africa on Tuesday morning on a twelve day trip that will see her scale the heights of Kilimanjaro, all for three very worthy cases. The caring woman who has already raised in excess of €6,400 is undertaking the climb to fundraise for provision of a natural garden at the Tots to Teens Crèche, for Shauna Ryan-Buckley who is suffering from a condition that cannot be treated in Ireland and must travel to the U.K. and for the Rainbow Ward in the Mid Western Regional in memory of Emily Daly who had attended Banogue Community Crèche.
At Thursdays function, Ms Burke presented a cheque to Christy Costello of Banogue Community Crèche and to Patrick and Trisha Buckley, parents of Shauna Ryan –Buckley to go towards her costs in travelling to the U.K. for treatment.
On to the tour of the crèche, one could notfail to impressed at the sight of an igloo in one of the playrooms. The igloo was created as project by a preschool class under the guidance of Shea Dunworth. It is constructed from over 600 x 2 litre empty milk cartons. The corks which are on the inside and are in three different colours are used for stimulating young minds to count. It took over a month to construct the igloo after 25 bags of cartons were washed and disinfected.