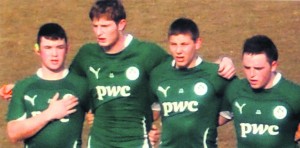 Charleville rugby is celebrating this week following young club player John Madigan winning his first cap for Ireland. The Charleville star who lined out in the second row was one of just two Munster players on the Ireland starting fifteen that went down 17-11 to the Italians at Badia Polesine.
John came up through the ranks with the local rugby club and in recent seasons also lined out with his school, Charleville C.B.S. winning two Munster Schools Cup with the school.
John is son of John and Catherine, John senior was for many years a stalwart of Bohemians and Munster and was a member of the Munster team that drew with the All-Blacks 3-3 at Musgrave Park in 1973. Meanwhile older brother Brian also represented Munster and the Irish Universities and is a former captain of U.L. Bohemians.
Commenting on John's rise to international prominence, well known Charleville Rugby official Eamonn Holly commented this week "the club are so proud of what John has achieved is such a short time".