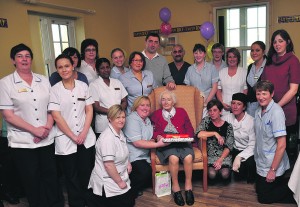 Last Saturday 5th November Bea O'Sullivan of Danesfort, Rathkeale celebrated her 100th birthday with family, friends, neighbours and the caring staff of St. Catherine's Nursing home. The celebrations began with a Mass of thanksgiving celebrated by Fr. Alphonsus Cullinan, PP Rathkeale, Fr. William Russell CC and Fr Antoine O'Twohig, St Catherine's, and following a wonderful buffet lunch, all present danced the evening away to the music of Noel Cronin plus a few performances from Bea's family and friends. Now Bea might not be as nimble on her feet as in days gone by, but it is worth noting that when Noel started Amhran na bhFiann to signal the end of the festivities Bea was the first person up standing to patriotic attention!
As a bit of history, Bea was born on 5th November 1911 to Bridget (nee Fitzgerald) and Thomas McCoy and grew up in the quiet country town land of Ballywinterourke, Rathkeale, the eldest of their 3 children. In the days before school buses, Bea walked several miles through the fields to Duxtown National school, and as she told her grand-nephew as he arrived home from school one day recently with a bag packed with heavy books, their schooling only required them to carry a pencil, copy and a catechism!
Following a short time working locally, Bea, like so many of her generation, emigrated to America where she worked for many years in New York before returning to Ireland once more. In 1960 she married Ned O'Sullivan and they settled in Danesfort, Rathkeale, enjoying almost 48 years of happy married life before Ned's death in 2008.
Bea was born before the foundation of the state and would have seen some extraordinary changes in her life. She would have seen the inauguration of 8 presidents, and this week, her 9th in Michael D. Higgins. She witnessed the progression from the bicycle to the motorcar, to man landing on the moon. From the oil lamp and candle to rural electrification, to the bright lights of New York City. In Bea's day it took 6 weeks for a letter to come from America but today, as emails are received within seconds, she remains interested in how exactly that works!
Blessed with an active mind and a clear memory, she has a great interest in how all her family, friends and neighbours are getting on but with special attention to the young people. This was shown by the large amount of young people who attended her party. Her other great interest is in fashion and style, from enquiring about what the young people are wearing to their debs to paying attention to the Queen's visit earlier in the year, presumably for more than just the historical context! As her nephew remarked in a tribute speech at her party, "There's only one word that describes Bea, she's a lady. She speaks like a lady, she acts like a lady and she dresses like a lady!"
Bea is now in the loving care of the management and staff of St. Catherine's Nursing Home and enjoys a great relationship with staff and patients alike. It is always a great pleasure to visit Bea and we wish her many more years of health and happiness.