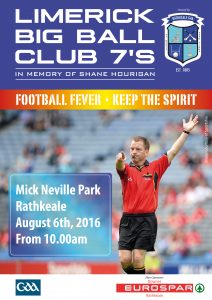 The countdown is well and truly under way for the Limerick Big Ball Club 7s tournament, which will be hosted by Rathkeale GAA Club next Sunday, 6th August, in memory of Shane Hourigan.
Shane was a former club secretary and chairman of Rathkeale GAA, and the club deeply feels the loss of a great clubman, while Limerick GAA has also lost a well-known and highly respected referee. Shane will be remembered amongst all Gaels for his enthusiasm and commitment to the promotion of Gaelic games, and Rathkeale GAA Club plans to honour him by running this tournament annually in his memory.
The eagerly anticipated competition will be a one-day event and will take place on August 6th in Mick Neville Park, pitting the very best of Limerick footballers against each other.
Games will start at 10am, with the best progressing to the last 16 knockout stages, followed by the quarter-finals, semi-finals and grand finale, when one of Limerick's finest will be crowned Limerick Big Ball Club 7s Champions 2016.
It promises to be a colourful family day with shop facilities, food, sandwiches, teas and coffees all on offer to mark this wonderful occasion., so please come out and support a great event in memory of Shane Hourigan. See more details and groups' draw on page 50.