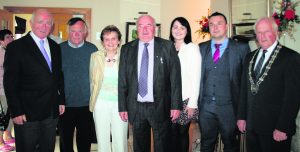 There was a big turnout on Friday evening in Deebert House Hotel, Kilmallock where family members, colleagues and retired members of staff gathered to pay tribute to one of Limerick City and County Council's longest serving outdoor staff members, Tommy Moynihan.
Tommy was retiring after over four decades of unbroken service having joined the staff of the local authority in 1975 and served in different positions in the intervening years.
It was an emotional evening for the retiree to whom many tributes were paid on the evening.
On joining the then County Council in the Croom Office in 1975, Tommy first worked on the river banks. He was transferred to roads after a couple of years in the service and was promoted to ganger in 1981. He was appointed foreman in 1987 for the Kilmallock area, a position he held until his recent retirement.
"I have seen many changes in my time with the Council and some for the better. When we started off, we had to buy our own coats and wellingtons as they were not provided like they are today. When I started we were out in all kinds of weather, we had no hut and had to take shelter on the roadside to drink our tea. Now there is mobile canteens with everything laid on inside. There are also more facilities in the depots."
While Tommy may be turning his back on all things municipal, he will be very busy as for the last number of years he has been one of the chief organisers for the Munster G.A.A. Council on big match day and is the welcoming face around the entrance area.  Plans for retirement from that position which he has held for up to fifteen years is not in the pipeline. "None whatsoever, this week I was out four nights including twice in Cork and once in Tralee and I enjoy it immensely."
Tommy's contribution to the G.A.A. has not gone unnoticed as he was the recipient of a President's Award from the then President of the G.A.A. Nicky Brennan in 2008 for his service to the Asso-ciation.
At Friday evening's function, a presentation was made to Tom on behalf of his now former colleagues of a gold watch and a wallet of notes by Gerard O'Connor, Senior Executive Engineer, Limerick City and County Council.
James Moynihan chair-person and Joe O'Donnell treasurer of the Munster Camogie Council made a presentation on behalf of the Council while Martin Hanley and James Dundon made a presentation on behalf of Charleville Plant Hire.
A native of Athlacca, from now on when he is not involved in the G.A.A. Tommy will spend time tending to his land and his cattle in his adopted Ballyagran.
Present on the evening were Tommy's wife Helen, a former  Limerick county camogie goalkeeper, his daughter Michelle and her husband Anthony O'Hanlon along with Tommy's brother and sisters.