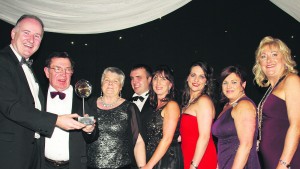 The winners of the fifth annual Mallow Business Awards were honoured at the annual Mallow Chamber Ball, which took place last Saturday night in Springfort Hall. Hosted and sponsored by the Mallow-based Barry Group, this year's awards were given a fresh new look with updated awards categories. Bohan's Dry Cleaners beat off the competition to take home the coveted Outstanding Business of the Year Awa-rd as well as the award for best in the Services Sector category. The dry cleaners, which operates out of its premises on Davis Street (but also has shops in Midleton, Fermoy and Kanturk), uses advanced cleaning technology and highly-skilled staff who specialise in suede, leather and silk. The company also offers a dress preservation service for wedding gowns, evening wear and Comm-union dresses. The Mallow Business Person of the Year winner was revealed on the night as Pat McDonagh of Supermac's and Costcutter Mac's Place on the Limerick Road, while Donogh Raftery of Aunty Nellie's Sweet Shop on Main Street won the Emerging New Business award. Other winners included Sheehan Brothers' Butchers as best in the Food and Drink Sector, and Thermosafe Brands Europe Ltd, which is based at Quartertown Industrial Estate, which won the Manufacturing Sector Award.
At the black-tie event, Jim Barry, Managing Director, Barry Group, commended the winners and finalists and said there was a hugely positive entrepreneurial spirit prevalent in Mallow.  "I would like to cong-ratulate the winners in their respective categories and indeed all who took part in the Mallow Business Awards. The competition was extremely tough this year with an exceptionally high standard and it is encouraging to see the innovative ways in which local businesses are operating in what continues to remain a challenging environment. He continued: "The calibre of entrants is improving year on year. It is clear to see that businesses in the area are raising the bar by constantly striving to improve their goods and services for the community. These awards recognise and acknowledge the dedication and commitment that is evident from all the finalists here tonight."
Irish presidential candidate and former Dragons' Den star Sean Gallagher delivered an inspirational keynote address to asse-mbled guests, including Mallow Chamber President Mary Kelly, Deputy Mayor Richard Dempsey, prev-ious Mallow Business Award winners, members of Mallow Chamber and local business repres-entatives.
The glamorous event was expertly hosted by C103 radio presenter Martina O'Donoghue who comm-ented: "We are celebrating businesses that have demonstrated real business prowess, exceptional cus-tomer service, outstanding business achievements, innovative business concepts, strong growth, good management skills and much, much more. In truth, all of tonight's finalists are success stories in their own rights. All of our local businesses are important. They create local employment, provide vital services and are managed by people who are key cogs in the community. But it goes beyond that. Our local businesses are vital to the Irish economy and the Mallow Business Awards celebrates and ackno-wledges the vital contri-bution that local businesses make to the Irish economy."
Sponsored by the Barry Group, Mallow Chamber, Business First and Hi Society Magazine, with the Mallow Star as media partner, the Mallow Business Awards showcase Mallow's best in business, celebrates local business successes, and acknow-ledges the vital contribution of the business sector to the Irish eco-nomy. See awards photos on page 16.