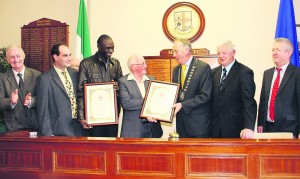 The visitors' book in the Council Chamber said it all last weekend when the latest recipient of a civic reception, David Rudisha signed his name and added '800 metres champion, 1.40.91 (world record)'. David Rudisha is probably the greatest athlete to be accorded a civic reception in Mallow, as he is the world and Olympic 800 metre champion, the current world record holder, and the World Athlete of the Year.
Joining the Olympic champion at the reception was his coach Br. Colm O'Connell, a native of Caherduggan and a past pupil of St. Pat's NS and the Patrician Academy.He studied to become a Patrician Brother and moved to Kenya in 1967, after which he became the most highly regarded coach in that country, training 25 world champions and 5 Olympic champions.
In his speech of thanks, David Rudisha said he was delighted to visit the town where Br. Colm came from, and also joked that the welcome he got was so good he was thinking of extending his stay. "I am from the Masai tribe in Kenya, but I am now happy that I am a Mallow Masai," he said.
Br. O'Connell said he was 'speechless' at the welcome. "Last year I said to David, 'would you like to come to Ireland,' and he said he would love to come, and we are delighted to see so many people coming out to welcome us," he said.
One of the speakers at the reception was Liam Ware, who spoke of the great contribution made to athletics by the Patrician Brothers, and he said that over the years the school had many great athletes like Jimmy Sullivan, Billy Bolster, Michael O'Keeffe and Michael Golden. As well as being accorded a civic reception, Br. Colm and David Rudisha got a great welcome on Monday at the Patrician Academy, St. Patrick's NS and Davis College, and they also got a hero's welcome at the Munster rugby game against Edinburgh at Thomond Park on Sunday. Br. Colm also received an hononary doctorate at Dublin City University on Friday.