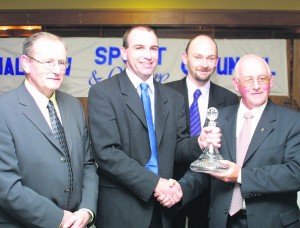 The Mallow area has no athletes competing in the London Olympic Games, but some of the hottest prospects for medals were coached by Lombardstown native Br. Colm O'Connell, who has coached a succession of successful athletes over the past 36 years in Iten, Kenya, yet has never attended an Olympic Games.
A total of nine Kenyan athletes competing in track and field competition next week in London have been coached at some stage by Colm, a Patrician Brother at the order's school in Iten. His main protégé for these Olympics is David Rudisha, the 800 metres world record holder, who is among the favourites for this year's event having posted the three fastest times over the distance this year. Another eight athletes from his youth programme are running in London, including Hilda Kibet, who nowadays runs for the Netherlands, and Edna Kiplagat who holds the world marathon title.
Br Colm's coaching career began by chance when the Iten athletics coach decided to go home and he was asked to take over. His only knowledge of coaching was in Gaelic football in Newbridge before he moved to Kenya, but he learned fast and his first major athlete was Ibrahim K. Hussein who became the first African to win the New York City Marathon. Since then he has coached 30 Olympians and world champions, and he runs a highly-respected youth athletics training camp which turns out a succession of world-class athletes.
So next week when the athletes he coached perform on the highest stage, the Olympic Games, Colm will be back in Iten watching them on television, in between coaching the next generation of stars.