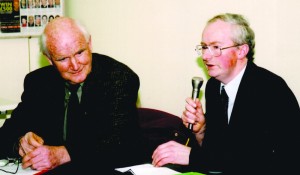 Brendan Fullam the best selling Gaelic games author and a real gentleman was laid to rest in Saint Mary's Cemetery Enniscorthy on Monday 11th February. He was a native of Ardagh but gone from the village since his youthful days to embark on a banking career. He worked for The National Bank as a bank official in Killorglin, Kilrush, Clifden, Ballyshannon, Wexford and Tralee, and he played hurling with all the local teams while working there. He also played a few underage games for the local team, and he was picked to play for Kerry minor hurlers but the Killorglin club refused to let him play. This was something he regretted as it would have been a proud moment to put on the green and gold jersey and possibly progress to their senior team. He served as Bank Manager in Killorglin, The Crescent in Wexford and in New Ross. He retired after 41 years service to embark on the mammoth task of visiting and collecting the stories of all the great G.A.A. stars past and present. This lifelong passion and love for the game was fostered as a small boy in the hurling field in Ardagh.
In the hurling field in Ardagh,
Always yielding the camán,
There's the young lads and the old lads,
There assembled one and all.
He admired the skills of the local players who were his heroes as they prepared and practised for the West Championship. There was little other attractions in the mid forties during the emergency years to excite and attract the youth in rural West Limerick.   It was a time of rationing, shortages, compulsive tillage, unemployment and emigration and the matches were an outlet and a tonic. The games were discussed amongst the boys at school and outside the shops and by the men folk outside the Church and also at the local creamery. His father James Fullam  a Longford man was the Creamery Manager in Ardagh from 1930 to 1968 and his mother Mary a much loved nurse for many years in Rathfredagh Cheshire Home. He grew up hearing about the great players and his father would take him to some matches and he would cycle to many more around West Limerick. The radio broadcasts, and the newspaper reports further increased his interest and passion in the players and the role the Association played in building up communities in rural Ireland. He started collecting players' photos and items of interest and pasted them into scrap books during these years.
Brendan started visiting and interviewing the hurling stars of the past around 1980 and recording over 300 of their stories which led to his first book 'Giants of the Ash' being published in 1991. It was a best seller and attracted great interest amongst the followers around the country. He continued this winning formula over the following years with 'Hurling Giants' in 1994 and 'Legends of the Ash' in 1997.  This trio of books contained the majority of household names we all heard about growing up.
Brendan expanded his coverage of our national games in the following years with the publication of 'Off the field and On' and 'The Wolfhound Guide to Hurling' in 1999, 'The Final Whistle' in 2000, 'Captains of the Ash' in 2002 and 'The Throw In 2004' continuing the in-depth and revealing stories that people loved to read about. 'Lest we Forget' and 'Decades of Stars' were his most recent books in 2010 and 2011.
I first met Brendan on the 26th of September 1993 at a Radio recording for the Donnacha O'Dulaing programme in Ardagh. It was during the com-memoration weekend held to mark the 125 Anni-versary of the finding of the Ardagh Chalice, and Brendan was one of the people who was recorded that day. I held a G.A.A. Exhibition to commemorate the Centenary of the West Limerick G.A.A. Board in January 2002 in Newcastle West Library, and I was delighted and honored to invite Brendan to perform the launch. It was his first time to do so in his native county and he was delighted to accept. His address was most interesting and delighted the large attendance present. He was most obliging with his time and he met and spoke to all present during the evening. He made a number of other visits to Limerick after that and contributed articles to Limerick G.A.A. Yearbooks and The West Awake book. Brendan's last visit to Newcastle Library was in November 2009 to give a talk about the 125 Anniversary of the founding of the Gaelic Athletic Association. The Saint Kieran's Club presented him with a lovely Scrapbook of photos of people, places and events related to Ardagh. He was delighted to accept it as a reminder of his young days collecting the newspaper cuttings for his albums that led on to his published books.
 The title of his talk that night was Lest we Forget. Well the name of Brendan Fullam will live on in the annals of Gaelic games through the pages of his much loved and read books. One man even went as far as having a Fullam book buried with him such was the enjoyment it brought him in his last days. I recall the old saying as we stand before God on judgment day ''It will matter not whether you won or lost, but how you played the game'' Well Brendan you played a blinder and may Heaven be your bed.
Sympathy to his wife Mary nee Kickham, children twins Helena, and Deirdre, Máire, Gráinne and Brendan, brothers Aodán, Paddy Mel, Kevin, 12 grandchildren, sons-in-law, daughter –in-law, sisters-in-law, brothers-in-law, nieces, nephews, family and friends. May he rest in Peace.
It was a sad week all round for Gaelic games writers as John A Murphy from Waterford and Jimmy Smyth from Clare also passed away. John was a regular Gaelic games reporter with the Cork Examiner and later the Irish Examiner for many years. Jimmy was an outstanding hurler with Clare, a G.A.A. Admin-istrator in Croke Park and author of Ballads of the Banner and other publications. All three are now elevated to a higher plateau to entertain others.  We will miss all their future work but thankful for their past contributions which will continue to enrich readers. May they rest in Peace.
So here's three cheers for good old Ardagh,
And their gallant hurling men,
They went down in flying colours,
But they will rise and win again.
Tom Aherne