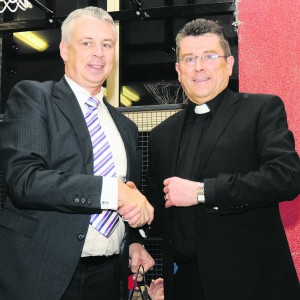 On an emotionally charged occasion, Bruff bid farewell to popular curate Fr. Joe Foley at a function in the Dean Cussen School Hall last Saturday evening.
Parishioners turned out in force and joined members of Fr. Foley's family in marking the huge contribution that he has made in Bruff-Grange and Meanus since his appointment to the parish in 1997.
A native of Effin, Fr. Foley has been transferred to Abbeyfeale and commenced his ministry in that west Limerick parish this Wednesday.
The departing priest celebrated Mass last Saturday evening in Bruff parish church assisted by Cannon Costello P.P., Bruff, Canon Willie Fitzmaurice, P.P., Kilmallock and Fr. Tony Mullins P.P., V.F. Dromin.
Mass was followed by the presentation ceremony at the school where proceedings were conducted by Denis Barrett, Chairman of the Fr. Foley Presentation Committee and Chairman of Bruff Church Finance Committee. Leading the tributes, Mr Barrett said "The speech we make tonight is the one we really don't want to make, these are the words we wish we didn't have to say and the presentation of gifts that we wish could have waited a little longer. In the years that he has been here he has shared the joys and sorrows of many families – the joy of baptisms and wedding days, the pain of the death of many elderly and indeed of young people. The extent of his contribution to life in Bruff during his time here can easily be measured by the strength of the many bonds he forged throughout the parish. These bonds will not be easily broken"
Continuing Mr. Barrett said "There is a feeling of sadness throughout the parish but that grief is really a measure of the great esteem in which Fr. Joe was held by the people of this parish over the past 16 years. However in the midst of the sadness there is also a feeling of acceptance and a very sincere wish that the new appointment being taken up by him will bring him joy, fulfilment and happiness"
"I suppose if we begin to think about Fr. Joe leaving the Parish of Bruff and going to Abbeyfeale, we might wonder why a priest has to leave a parish at all having been there for so long. From the point of view of us the parishioners, we will find the parting difficult, and many will take a long time to get over his leaving. Let us however consider Father Joe and remember that he will also find the leaving difficult and here tonight let us shake his hand and say our farewells as best we can and wish him the very best in his new parish," Denis Barrett said.
Concluding Denis Barrett said "Let us, if we can, think back to when Fr. Joe first started here in Bruff and think of the freshness and the excitement of a new voice and a new approach and say to ourselves that Abbeyfeale will soon be experiencing that same excitement. At the same time we can look forward to the arrival of Father Daly among us as we begin what will be the start of a new journey as we grow together again with a new voice and a new approach. It is the beginning of a new phase in the parish of Bruff. Tonight we have an opportunity to celebrate Fr. Joe's work while he worked amongst us and to remember the great bonds of friendship and love that he inspired throughout the community".
Presentations were made to the popular curate by Canon. James Costello on behalf of the parish of Bruff-Grange-Meanus, by Joan O'Connor, Principal on behalf of the teachers and staff of Scoil Dean Cussen, by Nollaig Coleman on behalf of the parents of Dean Cussen School, by the pupils of the school and by Superintendent Alan Cunningham on behalf of the Bruff Garda District. Superintendent Cunningham described Fr. Foley as "a fantastic priest who had an extraordinary way of dealing with the sick, accident victims and their relatives. He had healing powers" he said.
Fr. Foley in turn made presentations to the three sacristans of the parish, Joe Finn, Bruff, Peggy Hogan, Meanus and Helen O'Dwyer, Grange.
Fr. John Daly, a native of nearly Athlacca will commence his ministry in Bruff shortly.