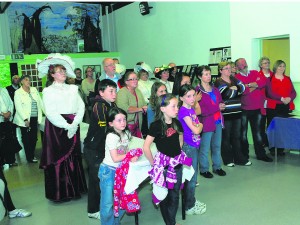 The Bruff Community Summer Festival kicks off on this Friday 4th July with the appropriately named Independence Day Barbecue on the Main Street from 6pm. This event, a 'cook – off' with a difference, will feature local club teams and businesses competing for the overall accolade in a contest that will be adjudicated by none other than the president of the World Barbecue Association, Grange native, Pat O'Sullivan.
Then, as an extra 'appetiser' for running and walking enthusiasts, Bruff will become a virtual hive of activity for the final race in the Ballyhoura Active Series, which is being hosted by An Brú Athletics Club at 8pm on Friday night.
An eclectic picnic
The programme on Saturday kicks off with an Eclectic Picnic at the Grove from 4pm with a fun event for all the family with music, face painting, clowns, song and dance.
A special attraction will come via The Big Red Party Bus – an ideal facility should the rain threaten to interrupt proceedings.
This will be followed at 7pm with an eagerly awaited tea dance in The Church of Ireland with popular local entertainer Jim Connery. There will be waltzes, quick steps and jiving with an odd 'slosh' or two thrown in for good measure.
It promises to be a highly entertaining evening in a unique and historic venue.
Limerick FC open day
Flagged as the highlight of the festival for many local people, Limerick FC open the doors on the exciting project that the club is undertaking at the former FCJ convent and school in Bruff on Sunday, 6th July.
The Superblues, twice League of Ireland champions, earlier this year announced the purchase of the property, which has been renamed the Kirby O'Sullivan Sports, Social and Business Park, and which will act as a training, administrative and business campus for the football club.
Limerick's first-team manager Stuart Taylor, who is based in Lough Gur, and his squad will eventually make the venue their training base while it is also set to house the club's ever-growing Academy, which currently consists of over 20 teams.
Included in the programme for Limerick's 'Fun Day In Bruff' will be a barbeque, penalty shootout competition, plenty of kids' games, bouncy castles, bar facilities, a DJ and band, as well as the club's Award Presentations for the 2013/14 Academy season.
Taylor and the Superblues stars will also be in attendance on what promises to be an entertaining and insightful day at the historical site. Admission is free and all are welcome.
Fringe events
Music is a common theme running right throughout the festival with a number of gigs arranged for local pubs while Derry's Bar will host a pool tournament on Friday night followed by a darts event on Saturday night.
Clancy's Bar will host a full programme each night with an eagerly awaited return appearance by the highly talented 12 piece Cork University group Papa Zitas fronted by three girls on Sunday night, 6th July.
And, just to banish the World Cup overkill, Bruff United will host its annual 7 a side soccer tournament each night from Thursday 3rd July with the final scheduled to take place during the open day at the Kirby O'Sullivan Sports, Social and Business Park on Sunday afternoon