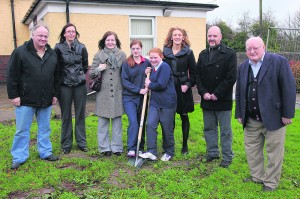 Work has commenced on the long awaited extension to St Anne's N.S. Charle-ville. The Department of Education first approved the extension last December.
While the architect and Board of Management were agreeing the location and design of the extension, the then 5th class were simultaneously drawing up their own extension plans. After much discussion around use of space, maximising the playground and the importance of light, pupils began work.
The assignment gave an opportunity to pupils to be involved in the planning and also helped them understand the elements involved in any building project.
Following the submission of plans, the designs suggested by Sophie Romain and Elizabeth Moloney came very close to the final layout agreed between the Board of Management and the architect.
Last week both girls were given the honour of turning the first sod on the new extension in recognition of their achievement.